Blasts along SR 260 necessary in widening project
Blasts along SR 260 necessary in widening project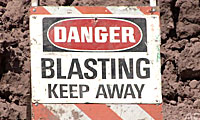 Some terrain is so rough and rocky that even heavy-duty machinery can't break through.
That was the case last Thursday when ADOT crews used more than 7,000 lbs. of explosives to remove roughly 8,000 cubic yards of material along SR 260, about 20 miles east of Payson.
And, they're not done, yet…
ADOT is working to widen the three-mile stretch of two-lane undivided roadway into a four-lane, divided highway. By the time this project finishes next fall, roughly one million cubic yards of dirt and rocks will have been removed.
Crews are using bulldozers and excavators where they can, but blasting is the only way to get through some the rockier spots.
For the blast in the video above, 179 holes were drilled and then filled with the 7,354 lbs of Ammonium Nitrate Fuel Oil, a type of explosive commonly used on projects like this. The blasts are set off with a charge from a wire detonated from a safe distance.
More blasting will be necessary for this project.
Check back for another video with additional details on this project and the improvements planned and even more explosive footage of the blast.