Check It Out: Freeway Sign Installation
Check It Out: Freeway Sign Installation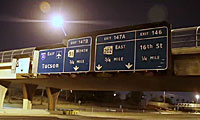 Remember last weekend when I-10 was closed through downtown Phoenix for an APS power line project?
Even though it wasn't shut down for an ADOT project, we did take advantage of having a totally empty freeway by getting some chores done, including cleaning the Deck Park Tunnel and installing some new freeway signs.
This particular installation (on I-10 at the 12th Street overpass), shown above, took just eight hours.
While the video speaks for itself, we do want to point out a few things…
The new signs are coated with highly reflective, prismatic sheeting. Because of that, the sign requires no electrical lighting (that's a cost savings!).
You'll notice that the "old" signs had a bit of graffiti painted on them, which is why the new signs have graffiti shields. Graffiti shields are intended to prevent someone from reaching over to spray graffiti on the signs – the two-foot shield extensions make it nearly impossible. Graffiti is no small matter. Besides often being an eyesore, the paint can affect a sign's readability by obstructing the text and by damaging the sign's reflective coating.
While it may not look like it, the new sign is really big. The sign (we're talking about both of the green panels) measure in at 16 feet high x 56 feet wide!
For more about ADOT signs, including a look inside the sign shop, check out our previous blog posts.