Community outreach and US 89
Community outreach and US 89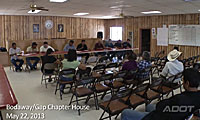 Last week, when we shared with you the long-term repair solution that has been proposed for US 89, we explained how experts studied the area for months and put together a comprehensive report that includes a major amount of geological data (seriously, the report is 463 pages).
Completing that geotechnical investigation has been a VERY crucial step toward eventually being able to restore the route, but we cannot forget to mention an equally important effort that has nothing to do with mapping, subsurface exploration, lab tests or slope stability analysis.
Community Outreach
Since the landslide occurred and forced the closure of a 23-mile-long stretch of US 89 just south of Page, ADOT has been working with residents, businesses and community leaders. The goal is not only to learn how the closure affects drivers in the area, but also to find ways to lessen those impacts.
"Our role is getting out there and getting engaged with the citizens," says ADOT Assistant Communications Director Brock Barnhart in the video above. "We had to look at the business community, we had to look at the tourism side of it and then we also had to look at the Navajo Nation. We had meetings directly with the communities through Chapter House meetings."
The communication outreach continues and it's definitely not a one-way effort. ADOT wants to hear from you…
ADOT has office hours within Page City Hall, allowing members of the public to drop in, ask questions and get the details they need.
There is a project hotline (855-712-8530) and of course, you can always reach out to us through Twitter, Facebook and the blog comments. We'll work hard to keep you updated and we're here to listen to your comments and concerns.