Crews wrap up work on I-17 traffic interchange at Munds Park
Crews wrap up work on I-17 traffic interchange at Munds Park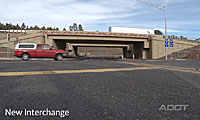 The Munds Park traffic interchange on I-17 has come a long way since we first checked in on construction...
That was back in May 2011 when work on the project had just gotten started. Since then, crews have reconstructed bridges and made other improvements to the site located about 20 miles south of Flagstaff.
We've been interested to watch the project progress and we think the video above gives a good look at how it has taken shape. But, as we viewed the video, we also started to notice how well it showcases many of the transportation concepts we've covered before here on the blog.
That's when we had the idea to take note of all the previous blog topics that were being mentioned or shown. We thought it'd be fun to see if you can spot all these subjects as you're watching the video:
Bridges
Safety
Bicycle/pedestrian issues
Friction course
So, did we get them all? Did you notice any others? Let us know in the comments!