Demolition of old Gila River Bridge under way in Bylas
Demolition of old Gila River Bridge under way in Bylas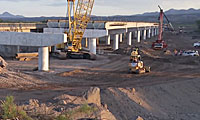 After 56 years, it's time for the old Gila River Bridge to retire…
Located on US 70 about a mile west of the Bylas community on the San Carlos Apache reservation, the bridge, which was built in 1957, is now being demolished.
But don't worry. Motorists will still have a bridge to serve their needs. In fact, the new bridge sits right next to where the old bridge stood.
We told you about this project last summer, but here's a little refresher:
The old 23-span steel girder bridge was in use until the new 15-span precast concrete girder bridge was constructed and opened to drivers. The $12.7 million replacement project not only gives drivers a new bridge with wider travel lanes and emergency shoulders, but the project includes intersection improvements and a pedestrian walkway, too.
You can see in the video above that the need for a new bridge stemmed from the condition of the old bridge – it was just inadequate for the needs of traffic in the area.
"We've had weight limitations for the last couple of years, so the big trucks can't even cross the bridge," Safford District Resident Engineer Brian Jevas says.
Safford District Engineer Bill Harmon explains further…
"The bridge that's being demolished right now was constructed in 1957 and it was showing its age. It was what we call functionally obsolete – it was narrow," says Harmon, adding that the new bridge has wider lanes, shoulders and a walkway.
Once demo on the old bridge is complete by the end of next week, crews will still need to come back to the site and finish up some paving work. That's scheduled to start in mid-April and should be done by the end of May.
One more bit of information…
Demolition crews have taken steps to prevent pieces of the old bridge from falling into the water below.
Since the river is running very narrow right now, the water is only below one of the 23 spans of the deck. Beneath that deck is a chain-link net to catch large debris coming off the old bridge during demolition. Downstream from the bridge, a catchment fence has been placed in the river bed to capture any smaller debris so it can be removed from the river channel.