Did you notice? Work progresses on I-17 at Central Avenue
Did you notice? Work progresses on I-17 at Central Avenue
By David Rookhuyzen / ADOT Communications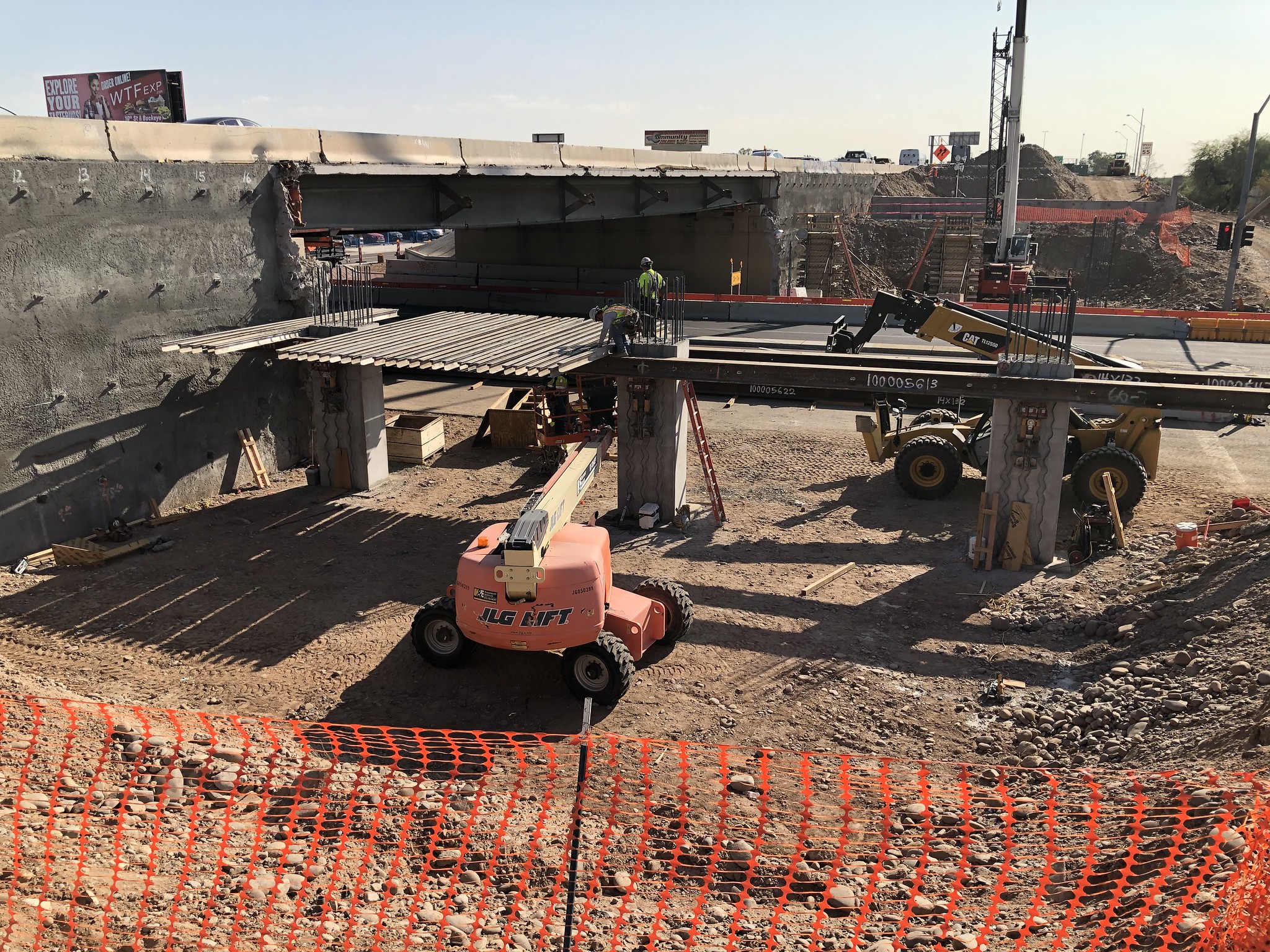 You may have noticed, but we like to show you photos of our ongoing construction projects. 
Partially it's because we get some great shots as asphalt goes down, girders go up, rocks go "boom" or signs go in. But it's also because it's not always easy to see progress being made as you are driving through a construction site to get home, to work or to wherever you might be heading.
That might be the case with the current phase of our project to replace the Interstate 17 bridge at Central Avenue. Some parts have been noticeable; anyone driving on the I-17 in central Phoenix will have noticed that since June the road has been narrowed to two lanes in each direction and traffic has been using only the northbound side of the old bridge. You may also have seen when demolition work on the southbound bridge was ongoing earlier this summer.
But the photos to the right show something that's a little more difficult to notice: Crews hard at work building the piers that will eventually support the new southbound bridge. While this new structure won't be finished until early next year, you can see that progress is definitely happening.
Once the new southbound bridge is finished, there will be more noticeable changes. Traffic will be switched to the recently finished structure, and then it's the northbound side's turn to be knocked down and built back up. The project is schedueld to be completed in fall 2021, so drivers should continue to expect delays in the area while I-17 is narrowed to two lanes in each direction. They should also consider using Interstate 10 if they are going beyond the downtown area. 
As part of the $13.5 million rebuild, we are improving upon the original bridge that has serviced drivers since 1962. The new bridge will raise the clearance on Central Avenue from 14 to 16 feet, which will also allow for the future extension of the Valley Metro light rail south of the downtown area. Plus, the structure will be wide enough to accommodate future work to add auxiliary, or merge, lanes along the right shoulder of I-17 in both directions between the on- and off-ramps at Seventh Street and Seventh Avenue.
We think you'll also notice – and appreciate – that.