From the Director: Accomplishing the 'to do' list
From the Director: Accomplishing the 'to do' list
By John Halikowski / ADOT Director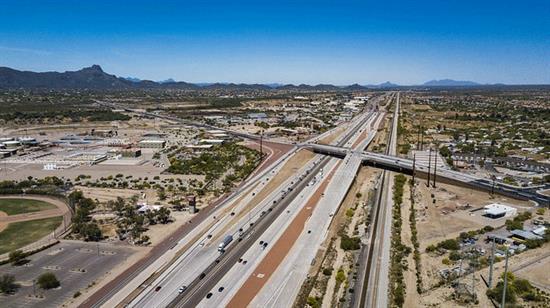 Let's face it. We all use "to do" lists to identify the items we want to accomplish every day. Whether it is a "to do" list at work or an infamous "honey-do list" at home, these lists help us stay focused and identify the tasks that are needed to get the job done. When we can put a check mark next to an item on the list to note it is done, what a great sense of accomplishment we feel.
I get the same feeling in describing the accomplishments completed by the employees at the Arizona Department of Transportation this past fiscal year. We have had a very productive year in serving our customers, the people of Arizona, in providing a safe and efficient transportation system. We have strived to make sure you get home to your loved ones safely. It's our True North – Safely Home. Our employees are dedicated on all fronts to get everyone Safely Home. We have tried to spark conversations with friends and family on the importance of being a safe driver. We have made vast improvements to streamline our processes so you spend less time at our Motor Vehicle Division offices. We complete highway construction and pavement preservation projects on time. And we get law enforcement officers faster information to help stop wrong-way drivers.
 Let me share just a few items on our ADOT "to do" list and highlight the accomplishments so far:
Constructed a new traffic interchange at Interstate 10/Ina Road in the Marana/Tucson area that is separating vehicular traffic from railroad activity and widening lanes for better mobility and safety.
Continued to make significant progress in the construction of the largest public-private partnership program, Loop 202 South Mountain Freeway, with the anticipated limited opening the freeway at the end of the year.
Launched a new safety website, FocusOnDriving.com, which provides helpful tips and resources to make us all safer drivers.
Implementing a dust detection system near Picacho Peak on Interstate 10.
Modernizing our Motor Vehicle Division's operating system to AZ MVD Now so we can serve our customers better and offer more services.
Weathered a historic winter storm in February that brought snow to parts of the Valley.
Continued to receive state and national recognition for our wrong-way driving detection system and sharing our findings with other DOTs to combat the problem.
Found ways to eliminate waste in our processes – making change for the better. I am very proud of the effort our employees are demonstrating in embracing the principles behind the Arizona Management System.
Recognized employees with Medals of Valor, Director Citation Awards and Director Pins for exemplary service to others and living our A.I.R. values (Accountability, Integrity and Respect).
Yes, our "to do" list at ADOT is vast and it seems never ending. However, we indeed have been able to put a check mark to items on our "to do" list. Even with a decrease in the number of employees at ADOT over the past several years, it is the dedication of the men and women who serve at ADOT for providing the sense of accomplishment I feel every day. Now, where did I put that "honey-do list?"