Five years ago we were boulder busting on US 89A
Five years ago we were boulder busting on US 89A
By Laurie Merrill / ADOT Communications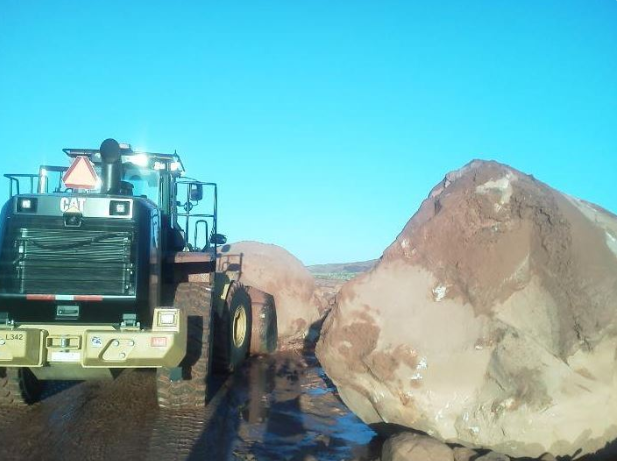 US 89A, an 87-mile stretch between Bitter Springs to Fredonia in far northern Arizona, provides jaw-dropping views of spectacular vistas amid iconic rugged landscape.
It is known for Jacob Lake, gateway to the North Rim of the Grand Canyon, Navajo Bridge over Marble Canyon and a spectacular run beneath the Vermilion Cliffs.
But five years ago, a monster monsoon storm severely damaged 24 miles of the highway. What happened next was a chapter in Arizona Department of Transportation history that shows how quick action, preparedness and cooperation with the private and public sectors rebuilt what is probably the most photographed road in the state.  
It was on Aug. 9, 2015, that a powerful storm dropped nearly 1.5 inches of rain in just 15 minutes on an area that included US 89A. The resulting House Rock Flood carried monster rocks to the highway from the Vermilion Cliffs two miles away and dumped mud everywhere.
"When Arizona Department of Transportation crews arrived on that day in August 2015, what they saw stopped their bulldozers in their tracks: boulders the size of elephants  – 15 feet in diameter – and mud in seven different slides that covered portions of 24 miles of the only road across a wide area north of the Grand Canyon," ADOT said in a press release. You can see some of that damage for yourself in this slideshow.
The enormity of the disaster prompted Governor Doug Ducey to issue a Declaration of Emergency to allow ADOT to seek approximately $2 million in federal emergency funding to cover the initial costs to reopen the highway as well as long-term repairs, according to another release from the time.
Both the biggest challenge and reward involved getting rid of those mammoth boulders fast enough to reopen US 89A within 24 hours.
"To break up the boulders, ADOT used Boulder Busters," we wrote in a blog at the time. "These are explosive cartridges that look like 12-gauge shotgun shells but have a thicker rim that would prevent them from being used in a shotgun. Crews drill a hole in a boulder, fill it with fluid, insert one to three shells and trigger an explosion."
That blog even included a little spoof to go with the clearing work. Do you remember the "Ghostbusters" film theme song?
If there's something strange sitting in your road
Who you gonna call? (Boulder Busters)
15 feet tall
In the northbound lane
Who you gonna call? (Boulder Busters)
US 89A received a makeover to beat all makeovers. The work was so exemplary that ADOT and contractor S.J. Anderson Co. of Mesa received the 2015 Harry H. Mellon Award of Excellence Winner in Job Order Contracting for the US 89A House Rock Flash Flood Project.
"Even with the challenges of a huge task in a remote location, the US 89A repairs were completed in just 53 days, with ADOT providing on-site inspection. The contractor mobilized within days of proposal acceptance, bringing crews and equipment from around the Southwest," according to the release about the award. 
Tons of stone blocking your path
Who you gonna call? (Boulder Busters)
Can't make your way
To Jacob Lake
Who you gonna call? (Boulder Busters)

I ain't afraid of no rocks.