Friday Five: New plates at Barrett-Jackson, low MVD numbers and territorial capital trivia
Friday Five: New plates at Barrett-Jackson, low MVD numbers and territorial capital trivia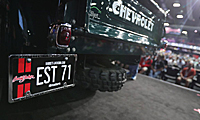 By Caroline Carpenter / ADOT Communications
The Friday Five is a blog about everything happening at ADOT this week. Make sure you follow the hashtag #FridayFive to see other's lists for the week.
1. On Monday, many state offices were closed for Martin Luther King Jr./Civil Rights Day. Even though it was a holiday, ADOT crews were still ready to roll in case there was a crash that needed their attention. A recent blog post has more on our ALERT teams.
2. We recently marked a milestone at the MVD – our best month ever. We're not counting up the number of transactions but counting how little time you spent at the MVD. We know no one likes to wait in line, so we've been working to reduce wait times. For November and December, door-to-door customer time averaged slightly over 22 minutes in urban offices and approximately 18 minutes in rural locations. In the same period just one year ago, average times were just over 30 minutes in both rural and urban regions. Two years ago, that number was 52 minutes.
ADOT Trivia: Fort Whipple was the first territorial capital in 1863. It moved to Prescott in 1864 & Tucson in 1867. It was never in Florence. Phoenix became the capital in 1889. pic.twitter.com/m3tk1LhrNJ

— Arizona DOT (@ArizonaDOT) January 16, 2018
3. Several times a week, we challenge you with Arizona trivia questions on our social media channels. This week we asked about the first territorial capital and information about when states were admitted to the union. Make sure you follow us on Twitter for more challenges!
4. On Wednesday, we announced upcoming traffic restrictions for West Valley drivers as Loop 202 South Mountain Freeway interchange construction continues at the Interstate 10 junction. Our press release has the details.
5. Last week we shared three new specialty license plates that are available. As you can see, someone already has the Barrett-Jackson plate on their vehicle at the auction! An Arizona Science Center plate and a Luke Air Force Base plate are also available. Visit our website to see the plates and learn more about the charities that will benefit from the purchase of these plates.