How do specialty plates get started? Your elected leaders
How do specialty plates get started? Your elected leaders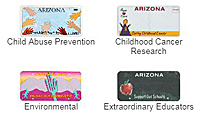 By Caroline Carpenter / ADOT Communications
Most people are surprised to learn ADOT's Motor Vehicle Division doesn't decide what specialty plates join its offerings. Those decisions are made by your elected state leaders.Each time we announce new specialty license plates are available, some ask us why certain organizations don't have their own plates and offer suggestions for new specialty plates.
The first step is a bill authored by a state lawmaker proposing a specialty plate that in nearly every case supports a nonprofit group. If approved by both houses of the Arizona State Legislature, the bill calling for a specialty plate becomes law once signed by the governor.
Next, the nonprofit pays a $32,000 fee for the production and implementation of the new plate. The state doesn't cover any of costs of new specialty plates.
Then a mockup is designed and must be approved by law enforcement officials, the nonprofit and the MVD director.
Once all of these steps are completed, the new specialty license plates are made available to drivers through the MVD or online at ServiceArizona.com. Specialty plates usually cost $25 per year, with $17 of that going to support the nonprofit sponsoring the plate.
The specialty plate selections can be viewed online and ordered.