Improved safety, reduced congestion key goals in placing DPS Officer at ADOT's TOC
Improved safety, reduced congestion key goals in placing DPS Officer at ADOT's TOC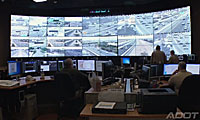 ADOT's Traffic Operations Center is admittedly a cool place to be…
It's a 24-hour-a-day, state-of-the-art electronic data hub where ADOT staff keeps an eye on traffic conditions around the state. This high-tech space (complete with 40 reconfigurable 55-inch flat panel displays that can show video from up to 160 cameras at once!) allows ADOT to provide fast and accurate information to the public about crashes, closures and other restrictions.
Just when you thought it couldn't get any better, there's a new partnership involving the TOC that we want to tell you about. The goal of which, is to clear freeway crashes more quickly to reduce congestion and save lives.
Through a collaborative effort among ADOT, the Department of Public Safety, the Federal Highway Administration and the Maricopa Association of Governments, a new program was recently launched that stations DPS officers at the TOC.
How the partnership works
The costs of the three-year pilot project will be equally shared by MAG and ADOT, including $450,000 for the first year and $425,000 for each subsequent year. The program will pay for three DPS officers and a DPS supervisor.
Initially, an officer will be on duty during high-peak traffic periods, joining the ADOT operators who provide 24/7 coverage in the TOC.
As you can see in the video above, having a DPS officer on site will be extremely beneficial.
"They'll be able to utilize our technology, our 200-plus cameras across the state, to see what's going on, on the roads. The DPS officer will be able to see crashes as they happen," says ADOT Public Information Officer Caroline Carpenter in the video above.
DPS Sgt. John Paul Cartier explains why it's so important to implement a quick response…
"Secondary collisions can be of greater severity that the primary incident," he says in the video. "To improve the safety of all groups, we want to clear the roadway as quickly and safely as possible, after a thorough investigation, and restore the traffic flow pattern."
Find more details on the new partnership in this ADOT news release. You can also check out some of our previous blog posts to learn more about the TOC.