Let's not be "ooky" drivers on Halloween
Let's not be "ooky" drivers on Halloween
By Laurie Merrill / ADOT Communications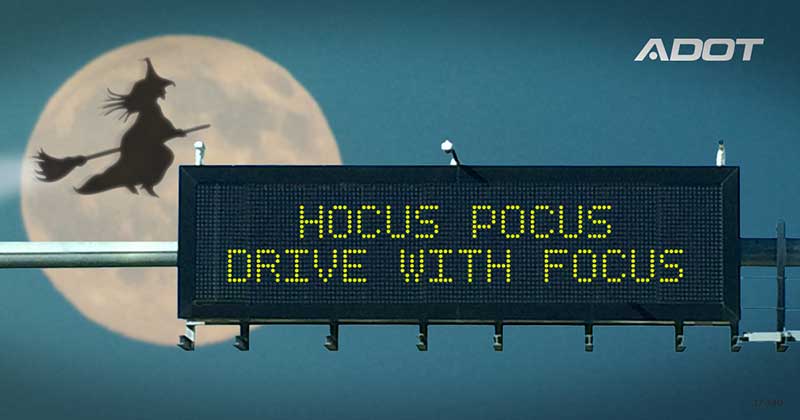 "They're creepy and they're kooky.
Mysterious and spooky
They're all together ooky."
We're not talking about the Addams Family. 
As Halloween approaches on Sunday, Oct. 31, we're talking about scary motorists, the creepy crawly kind who:
Think they're witches who can fly over traffic, forgetting about the little Diana Taurasis, Devin Bookers and Wonder Women scurrying about amid superheroes, ghosts and goblins.
Think it's okay to imbibe too many drinks from the adults-only cauldron without designating a driver, putting a zombie's army of costume-clad candy seekers at risk.
Forget that on Halloween, the ghoulish streets are no place to be speeding or driving carelessly or aggressively.
Be an Ariel, not a Tazmanian Devil. Buckle your seatbelt, drive sober, go extra slowly and give yourself plenty of time to get home from your weekend errands.
Pack some patience along with that extra bag of candy. Plan ahead and remember to leave earlier. Don't let too much sugar keep you from staying alert to the candy crush of Halloween funsters.
Take heed of these safety messages (on the right ) that we displayed on Halloweens' past.
And, look forward to ADOT's new Halloween safety messages, which are scheduled to debut over the weekend.
So, let's all make a commitment not to be "ooky" drivers this year! Here's to a safe Halloween!
For another reminder about Halloween safety that's sure to drive you batty, click here.