Loop 101 project update
Loop 101 project update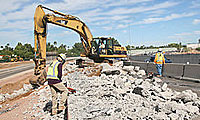 Work is progressing on the Loop 101 widening project we first told you about in August (and then again in September).
As northeast Valley drivers have surely noticed, crews are currently working to widen bridges within the project area and build retaining walls and sound walls.
The $73 million project will widen 11 miles of Loop 101 between Shea Boulevard and Loop 202 (Red Mountain) with the addition of one new lane in each direction. A second new northbound Loop 101 lane also will be constructed between the Loop 202 interchange and McDowell Road. Other project features include the addition of new merge lanes between interchanges, new lighting and signs, new landscaping (including the use of hundreds of salvaged cacti and other plants), wider freeway bridges and realigned on- and off-ramps and a new layer of rubberized asphalt.
Why we build new lanes when we do
You might be wondering why we're building the new lanes now, as opposed to years ago when the Loop 101 was first constructed. We get that question a lot from people who say building everything all at once would prevent the restrictions, closures and traffic that can come along with new construction.
You can find a great answer in this blog post from 2011. But in a nutshell, we can tell you that it's just not feasible to construct freeways for future needs all at one time. The main reason has to do with funding. The money for projects is not available all at one time. As a result, we build and improve freeways in phases, using the funding that is available when the project is scheduled to begin. In Maricopa County, that funding comes from the voter-approved, 20-year extension of the half-cent sales tax (2006-2026). Revenue is programmed for freeway projects identified in the Maricopa Association of Government's Regional Transportation Plan, a long-term blueprint for transportation improvements across the Valley.
What drivers should know
There will be no closures during the upcoming holiday and any lane restrictions will be limited to overnight hours. Drivers can also rest assured that no construction-related closures are planned during a number of upcoming events in the area (including the Super Bowl and Spring Training). For more on this project's timeline, check out this blog post.
Finally, and most importantly, drivers need to be aware that they're driving through a work zone and must obey the lower speed limit that has been posted.
"It's 55 MPH," says ADOT Public Information Officer Doug Nintzel in the video above. "It's there for (driver) safety. It's there for the safety of our workers."