A new special license plate option is now available
A new special license plate option is now available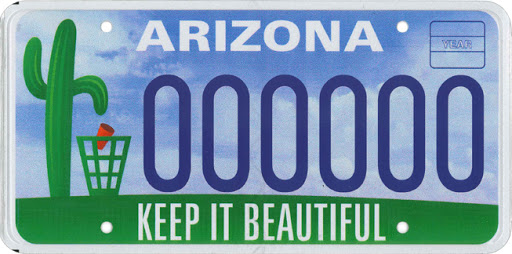 By now, you ought to know plenty about license plates…
We've blogged about how they're made and the awards they've won. We've even attempted to answer all your questions relating to the "blue cloud" plates (a sequel to that post is coming soon – stay tuned!).
So, for today's post, we'll keep things fairly short and just let you know there's a new specialty plate that's available for purchase in Arizona.
The new plate is: Keep Arizona Beautiful.
Like other special plates there's a $25 initial application fee and a $25 annual renewal fee to consider – $17 of the fee goes to the litter prevention and cleanup special plate fund. This plate has no special requirements and is available to everyone. It may be personalized with a maximum of six characters and is also available with a disability symbol.
For more information on special plates, visit the MVD site.