Preparedness and emergency response are important parts of ADOT's job
Preparedness and emergency response are important parts of ADOT's job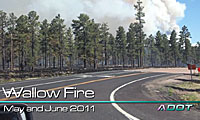 Last week when we told you about National Preparedness Month, we briefly detailed the role ADOT plays when it comes to public safety. But, there's a whole lot more to say on the subject, and who better to write about it than ADOT's very own Emergency Manager…
Courtney Perrier-Bear has been with ADOT for 12 years and has been the department's emergency manager since June 2010. That same year she received her master's degree in technology, with an emphasis in emergency management from Arizona State University. Courtney's experience also includes time as an Arizona Firefighter II, work as an Arizona Division of Emergency Management adjunct instructor and 20 years in environmental, safety, hazardous materials and emergency management. Take a look at the video above to see Courtney in action on the scene of the Wallow Fire back in June.
By Courtney Perrier-Bear
ADOT Emergency Manager
Everything ADOT does supports public safety in some manner…
But, in order for us to be ready for any emergencies or disasters that might affect our highways and interstates, we've got to be prepared for anything.
To help the department stay ready and prepared, ADOT has an Emergency Preparedness and Management group that focuses on caring for the public as well as ADOT employees during such emergencies.
ADOT has several responsibilities for response and recovery that are spelled out in the Arizona State Emergency Response and Recovery Plan. We have to be prepared as an agency and as employees to be ready to meet those responsibilities.
Some examples of our activities include:
Coordinating and participating in internal and external preparedness activities with all levels of government, private entities, and non-governmental agencies such as the Red Cross
Representing ADOT at the State Emergency Operations Center in the Public Safety Branch
Integrating items such as training and communication requirements found in the National Response Framework and National Incident Management System into ADOT operations
Supporting ADOT employees and ADOT business area recovery during and after emergencies
Responding as an assisting agency to emergencies affecting ADOT with other state agencies, counties, local jurisdictions and private entities during response operation.
These activities help ADOT prepare to assist the citizens of Arizona during an emergency affecting our transportation corridors … but there are plenty of things you can do to be prepared and help ADOT and other response agencies.
Know the hazards of your area. Sign up for the Arizona Emergency Information Network at azein.gov. Check your local jurisdiction or county web pages for emergency management groups and see what they have to offer. Arizona demographics, climate, and hazard risk vary widely and local plans tailored to the area will aid in your preparedness.
Create a family emergency plan such as the one found at ready.gov and focus on how you will get out of your area and community if evacuated. You may only have minutes to react as seen in the Texas wildfires over the last few days. Check a map of your area and pick several different routes of escape. You may find that during an emergency such as the Wallow Fire this summer, ADOT may have closed some routes due to dangerous conditions. Learn how to use az511.com before an emergency strikes.
Decide on your method of evacuation (car, bus, friend's car, etc) and then plan a second and a third method if the first fails.
Plan options for where to go. Sure, there will probably be shelters, but what about your pets or family members with functional needs? What will you do if you can't get to your destination right away?
Have a communication (such as an out of state relative or friend) and rendezvous point backup plan. What if you are separated from family members and can't reunite until you are out of danger? How will you make contact and where will you meet up? Will it be safe there based on the hazards in your area?
Have emergency supplies ready in your car at all times. And don't forget; keep your car serviced and your fuel topped off.
During emergencies that require evacuation, ADOT will work with other agencies to make sure appropriate evacuation decisions are taking place and that the public is being informed of response-specific actions you will need to take. Help us out by being prepared for such events!