(Re)-bridging the gap: Mescal/J-Six Bridge set to open
(Re)-bridging the gap: Mescal/J-Six Bridge set to open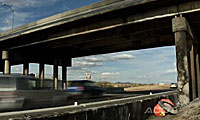 It's been just about six months, but today the residents of Mescal and J-Six Ranch got their bridge back and can finally say goodbye to one lengthy detour!
These two Cochise County communities had been linked together by an overpass that spanned Interstate-10. But back in March, two semi-trucks collided underneath that bridge and the resulting damage was so severe that the connection between Mescal and J-Six had to be closed for safety's sake.
Fast-forward to today ... a brand new bridge is in place, ready to accommodate the motorists who have been forced to take the long way whenever they needed to drive between the two neighborhoods.
"For most motorists traveling I-10, this closure was an inconvenience," says ADOT Director John Halikowski in the video above. "It meant they'd have to travel a little farther to stop for gas. But for the communities of Mescal and J-Six Ranch, the overpass closure created a heavy burden. You see, the bridge is the only road connecting Mescal and J-Six Ranch. Residents from both sides were cut off from the businesses and services they rely on."
Normally a project like this would have taken up to two years to complete, but ADOT put this job on the fast track because of the hardship the closure caused to local residents (motorists were seeing about 14 miles added to their round trips just to get across the road, which really starts to add up after a while).
The accelerated project started with the demolition of the old, damaged bridge. ADOT was able to take advantage of a previously scheduled April 8 closure of I-10 for the demolition of the nearby Marsh Station Bridge and was able to take down the Mescal/J-Six Bridge the same night.
An expedited design timeline also helped speed things along. An abbreviated bid process that focused on contractors with a track record of building bridges under emergency circumstances kept things moving, too.
The project received $955,000 in emergency funds from the Federal Highway Administration and construction was able to get started right after Fourth of July weekend.
Work included the placement of 35 new concrete box girders atop the bridge piers. Outside support beams were also placed, but they featured attached, precast bridge barriers designed to help expedite the construction.
Amazingly, by Sept. 9, crews were already prepared to pour 150 cubic yards of concrete for the 216-foot-long bridge deck.
The concrete took 10 days to cure and you'd better believe crews didn't let that time go to waste! They continued to work by filling gaps in the barrier wall between box girders and putting the finishing touches beneath the overpass.
The very final step taken before the bridge could open to the public included placing temporary markers along the lanes (permanent striping will be added to the roadway at a future date).
We've followed the progress of this project through videos and blog posts and now that the bridge is open, we hope you'll take a look back at what it took to get here! As you can see in the video above, this bridge is important to the two communities it connects.
We at ADOT would like to thank all the residents, business operators, as well as Cochise County officials for their patience and support!
Note: This blog post was updated to reflect a revised open date for the bridge. It opened Monday afternoon, about 16 hours ahead of its Tuesday scheduled date.