Red Mountain Freeway improvement project update
Red Mountain Freeway improvement project update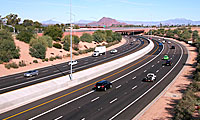 When we last checked in on the Loop 202 (Red Mountain Freeway) project, crews were adding travel lanes, widening bridges and wrapping up the placement of rubberized asphalt…
Now, as many East Valley drivers can tell you, the project is pretty much finished!
"Since April, we've completed all of the widening of the roadway and the bridges and the new asphalt rubber is down," said Transportation Engineering Specialist Craig Regulski. "Now, we're just finishing up the final striping and getting the freeway management system up and running – basically, we're finishing up the electrical work. All travel lanes are open, but there are still restrictions on some ramps."
More about the project
Crews started working in October 2014 on the project that added one general purpose lane in each direction along Loop 202 between Loop 101 (Price Freeway) and Gilbert Road. The project also added a High Occupancy Vehicle (HOV) lane in both directions between Gilbert and Broadway roads. In all, this project has added lanes along nearly 20 miles of the Loop 202 (Red Mountain Freeway).
Besides the addition of new lanes and rubberized asphalt, this project also included the construction of both retaining and sound walls, drainage improvements, updating the existing overhead freeway signs, the installation of a new median freeway lighting system, and landscaping.
This project was built utilizing the design-build method of delivery, which involves pairing the design team with the construction team. This team then both designs and constructs the project.