Rocky the Ringtail
Rocky the Ringtail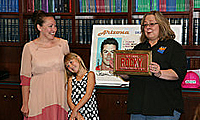 Allow us to introduce Rocky the Ringtail!
He's the cute, little creature who can be spotted on the newly designed Arizona driver license and until today, he was in need of a name.
That's where all of you came in – we received hundreds of submissions in response to our "Name the Ringtail" contest. Ringo, Kai, Copper and even Lord Voldemort were among the suggestions, but after all the votes were counted, "Rocky" came out on top.
Rory, a seven-year-old girl from Peoria, suggested the winning name that earned an amazing 1,052 votes! We're told that when Rory first heard about the ringtail contest, she added it to her "bucket list," which she revises each year to mark things to achieve.
Today, Rory and her family visited MVD headquarters in Phoenix to receive her awards – a stuffed animal (a ringtail, of course!), a special license plate and a pink ADOT hard hat.
Way to go, Rory!
For more information on the new license, visit our MVD Web page or check out our previous blog post.