Route 89: Arizona photographer finds his way on border to border highway
Route 89: Arizona photographer finds his way on border to border highway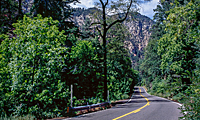 By Peter Corbett / ADOT Communications
Arizona photographer James Cowlin went searching for landscapes to photograph a decade ago only to discover a passion for the terrain along US 89 looking through his windshield and viewfinder. Cowlin, 73, hit the road in 2007 to explore Route 89 from Mexico across Arizona all the way to the Canadian border.
He came home to Arizona with impressive images and became an advocate of the 2,000-mile highway, launching the US 89 Appreciation Society with a blog and website:
"It's easy on the eyes," he said of scenery along 89 that ranges from the Grand Canyon to Grand Tetons and five other national parks and a dozen national monuments.
National Geographic Traveler named US 89 one of its Top 10 Drivers' Drives in the world in 2010. Cowlin and his wife Barbara, a painter, ventured on a handful of trips on 89, including a border to border to border journey over 32 days covering about 5,000 miles. They camped in a teardrop trailer.
"I love long road trips," he said.
Cowlin has logged 25,000 miles on Route 89.
Home is now in Oracle, north of Tucson. Cowlin spent 35 years in Phoenix as a commercial photographer. The Cowlins live a few miles from State Route 77, previously designated as US 89.
Highway 89 is all over the map in Arizona.
There are five current sections of 89 with different highway designations – state, federal and alternate routes – SR 89, SR 89A, US 89, US 89A and SR 89S for a spur route. Interstate 19 replaced an original section of US 89 from the Mexican border at Nogales to Tucson.
"I call it the Main Street of Arizona," Cowlin said of 89. "It connects all these towns across the state."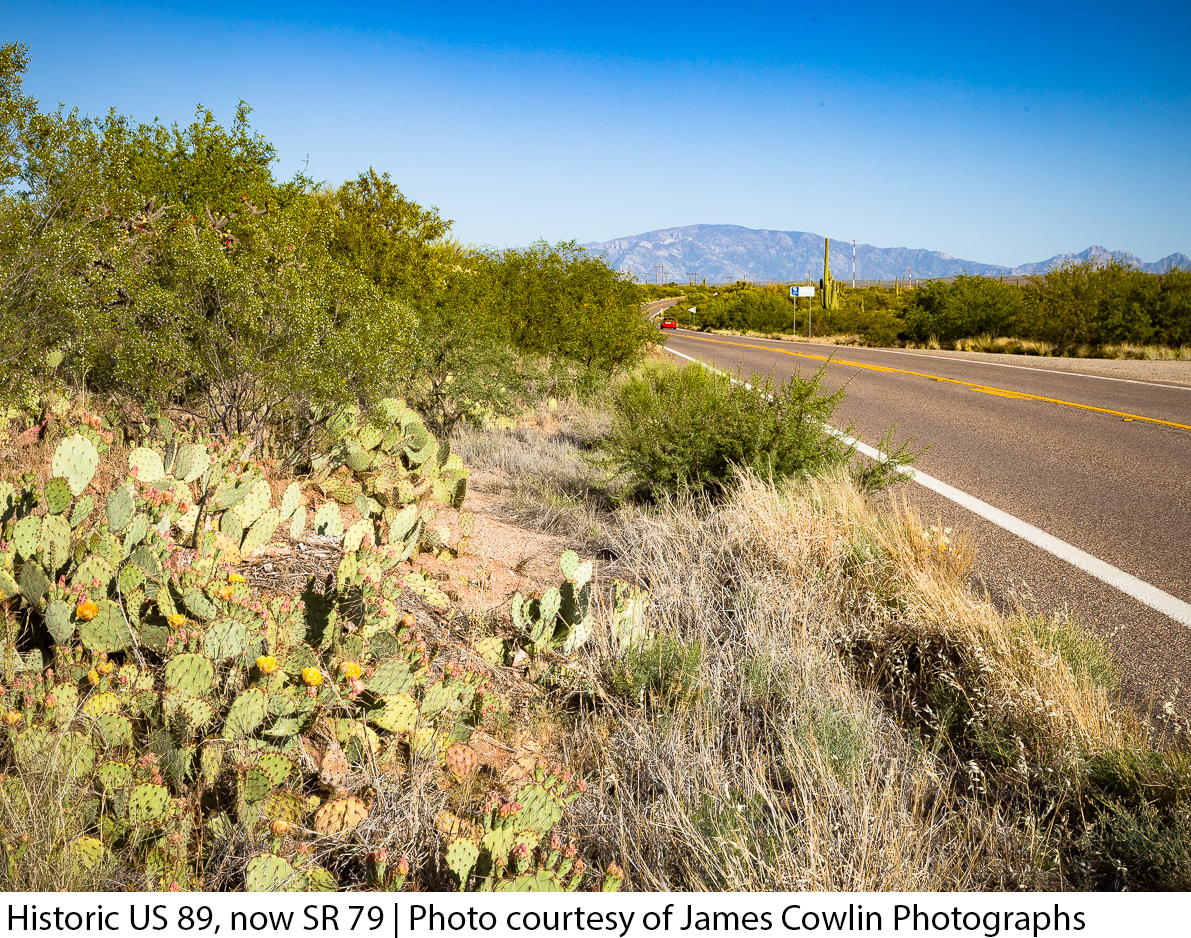 US 89 was an early north-south route across Arizona in 1926 when a uniform highway numbering system was established. The Grand Canyon-Nogales Highway south of Tucson was US 380 and the road between Phoenix and Ash Fork was tagged US 280. Later they were renamed US 89 along with a new section from Flagstaff to Fredonia.
Long before interstates, 89 connected Nogales, Tucson, Florence, Mesa, Phoenix, Wickenburg, Congress, Yarnell, Prescott and Ash Fork. It then ran along Route 66 to Flagstaff before turning north to Cameron, Marble Canyon and Fredonia near the Utah border.
Arizona historian Marshall Trimble, who grew up in Ash Fork where 89 intersects with Route 66, recalled his first rough ride in a 1936 Ford on 89, also known then as the White Spar Highway to Prescott.
"Back then, Yarnell Hill was a real bucking bronco," he said of the steep switchbacks up the Weaver Mountains. "Now it's like a kid's pony."
SR 89 hasn't changed much between Prescott and Ash Fork except for the road cut through Granite Dells north of Prescott is wider and Hell Canyon has been tamed, first with a 1954 bridge and new bridge last year. Plus, there's far less traffic, Trimble said.
Interstate 17 and US 93 take much of the north-south traffic that formerly traveled on 89.
Cowlin said Route 89 allows for slower travel and sightseeing as an uncrowded two-lane highway that follows river valleys and the contours of the land.
"It's kind of a natural road in that sense," he said.
Cowlin said he discovered Route 89 while poring over maps looking for a landscape photo project to shoot and seeing a line of national parks stretching across the West from north to south.
"US 89 came to be by happenstance," he said. "Nobody ever said let's build a road from Glacier to Saguaro National Park. It just happened that way."
The best time of year to travel the northern stretch of US 89 is mid- to late summer because some of the roads in Glacier National Park are snowbound well into June, Cowlin said.
"89 in Arizona and Utah you can do all year long, but spring or late fall are the best times."