Safety is top priority for ADOT maintenance crews
Safety is top priority for ADOT maintenance crews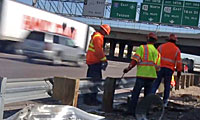 We're big fans of ADOT's maintenance crews and we appreciate all they do to keep the roads safe…
We try to document much of what their jobs entail here on the blog, but these crews are responsible for so much that it's difficult to capture it all (we have tried, though. Read our previous posts on the maintenance team).
Today's video does a very good job of summing up what the maintenance crews do and why it should matter to the traveling public.
"Safety is priority No. 1," says ADOT Highway Operations Supervisor Jerry Turner in the video above. "Making sure that the public has a safe road to travel on, whether we're repairing guardrail or picking up debris on the road."
The video also provides a reminder of how important it is to give these crews some room if you spot them working on the side of the road (remember Move Over AZ?).
"They are working to make your world safer. Give these folks a break," says Public Information Officer Doug Nintzel. "That means merging over a lane or making sure you're slowing down if you see a maintenance crew at work."
For more on ADOT's maintenance crews, revisit the blog archives and learn about the many responsibilities of this group. And, if you want to learn more about the attenuators that were mentioned in the video, we've got that covered, too.