Throwback Thursday: State Route 88
Throwback Thursday: State Route 88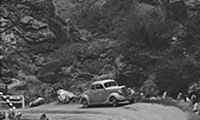 By David Rookhuyzen / ADOT Communications
For many, State Route 88 is a way to get out of the Valley and enjoy at day at Canyon Lake. For some, it's a winding route to adventure.
This curving route, also known as Apache Trail, hides an impressive story and is designated as a historic road. It was one of the original 10 state highways and played a vital role in the completion of Roosevelt Dam and, with it, making it possible for the Phoenix area to grow.
At the turn of the 20th century, Valley residents were looking to better harness the Salt River and cut down on flooding. Some lobbying to Congress resulted in the decision to build a dam at the river's confluence with Tonto Creek northeast of Mesa.
SR 88 was blazed in 1904 to help carry workers and 1.5 million pounds of freight from Mesa up to the future Roosevelt Dam, which was completed in 1911. The initial cost was a little over a half a million dollars. The road would be partially rerouted a decade later when the Mormon Flat Dam was completed in 1925, forming Canyon Lake. The highway came under the auspices of the Arizona State Highway Department in 1927 and was declared an Arizona Historic Road in 1987.
The highway is still an important route for travelers, which is why last year we spent $6.5 million on a project to improve the road. You can see the results in the video below.
So whether you just want to get to Canyon Lake or see a piece of Arizona history, SR 88 is waiting for you.