Throwback Thursday: The unknown highway
Throwback Thursday: The unknown highway
By David Rookhuyzen / ADOT Communications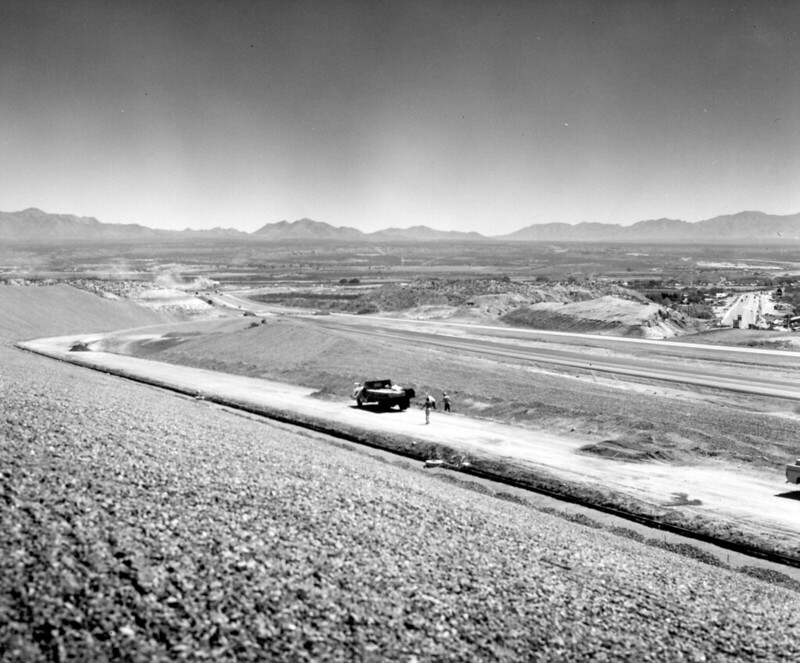 Over the years, we have delved into our archives to bring you photographs from a lot of times and and places. From grading a road with mules to the Highway Hawk's appearances at events to a bewitching shot of the "Devil's Highway," we've shared a lot about how things used to be. 
However, all the photos we have shown you up to this point have had something in common. Whether we were talking about child safety seat standards (or lack thereof!) in the 1970s, a hard-working pickup truck from the Grand Canyon Airport in the 1950s, or a town hall meeting in Globe nearly 50 years ago, we had some information to go off of. Sometimes they are maddening vague (such as this photo, where we only learned her name by accident), but we still had something to go off of.
But not today. 
That's because, as we went through our archives looking for something good to pull, we stumbled across this shot of some lonesome highway work that is simply titled "Unknown 2" (to distinguish it, of course, from another, unrelated photo in the same collection named "Unknown 1"). 
And now you have all the information that we do. Or at least as much information as the communications team has without going to everyone of a certain age at ADOT to see if they know where or when this might have been taken. 
It's obviously depicting some sort of roadwork on a downhill slope and it's in a collection that's all from 1970 or later, but beyond that we can't hazard a guess. So we decided to pass it along to you all to see if any of our readers out there wanted to try their luck.
Ultimately it doesn't matter where this is or when the photo was taken. We build roads to get people where they need to go without having to worry about how they got there. That means this highway could stand in for just about any state highway – silently serving Arizona drivers without any fanfare.
However, that being said, we would love to be able to solve this puzzle. So if you have any ideas about where/when this was, we would love to hear them! Reach out to use on Twitter, Facebook or Instagram to let us know your thoughts!