Transportation innovation event showcases exciting new ideas
Transportation innovation event showcases exciting new ideas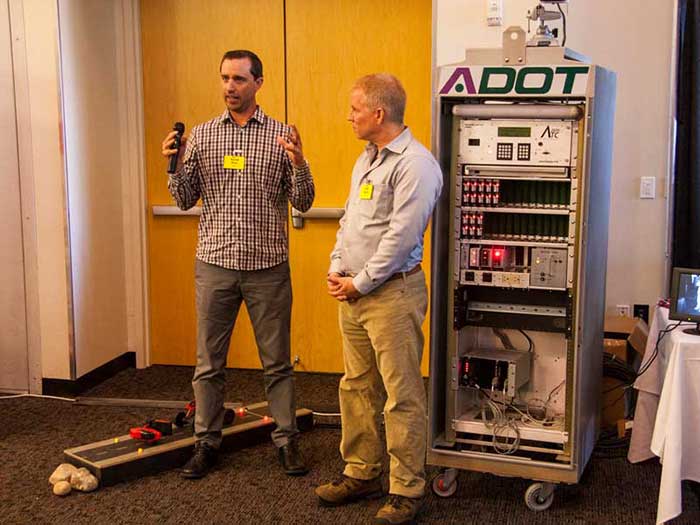 By Ryan Harding / ADOT Communications
The transportation world is poised to rapidly change with the advent of autonomous vehicles and ride-sharing companies and an increased desire from the public for multimodal options. For agencies like ADOT, innovation is vital to serving future generations.
Luckily, we have the Arizona Council for Transportation Innovation, a product of the Federal Highway Administration's Every Day Counts Initiative. Formed in 2012, the council supports innovative technologies and techniques to ensure smart, efficient investment in Arizona's highways and other transportation infrastructure.
The council is made up of officials from ADOT, the Federal Highway Administration and Maricopa and Pima counties, along with engineering professionals.
On Tuesday, Oct. 4, the council held its first all-day Innovation Exchange Campaign event in Tempe, bringing together transportation professionals and engineers from government organizations such as ADOT and from companies.
The photo above shows David Riley (left) and Andy Murray of ADOT's Traffic Technology Group explaining a test involving the timing of ramp meters along State Route 51 in Phoenix. This test is aimed at seeing if adjusting meters can improve traffic flow.
Other booths featured innovations like the ability to produce high-quality digital mapping from a moving vehicle, methods to more efficiently and intelligently manage traffic flow, new synthetic materials to increase the lifespan of transportation infrastructure and even 3D printed recyclable vehicles.
"New innovations help make things smarter, faster and more cost-efficient," said Karla Petty, Arizona division administrator for the Federal Highway Administration and co-chair of the Arizona Council for Transportation Innovation. "Innovation allows us to get more out of what we have."