Tucson to host second public hearing for ADOT's Tentative Five-Year Program
Tucson to host second public hearing for ADOT's Tentative Five-Year Program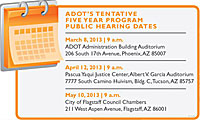 It's almost time for the next public hearing on ADOT's tentative Five-Year Construction Program…
This one is scheduled for 9 a.m. on April 12 in Tucson. The meeting will be held in the Pascua Yaqui Justice Center in the Albert V. Garcia Auditorium, 7777 S. Camino Huivism, Building C.
But if you can't make it, don't worry – there are plenty of other ways to comment. Here are a few of your options:
More on the tentative program 
The Five-Year Construction Program is a blueprint for ADOT that details where, when and how regional, state and federal funding will be spent for projects over the next five years to improve our sate's transportation infrastructure.
However, some tough decisions are ahead. For the 2014-2018 Five-Year Program (which is still a tentative program right now), ADOT has determined that $350 million must be cut due to stagnant revenue from the gas and vehicle license taxes and from decreased federal funding.
As a result, the 2014-2018 Five-Year Construction Program reflects a major focus on preserving our existing state highway system while moving some programmed projects forward. Other programmed projects in the five-year plan will need to be delayed to future years due to significantly less funding.
We encourage you to visit the ADOT website to take a look at the tentative plan. There you'll also find information on three different scenarios
It's important that you do provide feedback because the State Transportation Board will consider all public comments that are received by May 17 before adopting the final 2014-2018 Five-Year Program at its June 14 meeting in Pinetop-Lakeside.