US 60 Oak Flat project update
US 60 Oak Flat project update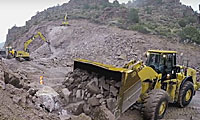 If you've been following ADOT on social media or here on this blog, you already know about the improvement projects happening along the US 60 corridor near Superior.
We blogged about them on 10/09/15 and 5/15/15 and have been posting updates to Facebook and Twitter when blasting occurs on the Oak Flat area of the corridor (just in case you missed it, check out this cool Facebook video that shows one of those blasts).
You can find the very latest update on all the projects in this news release on 01/14/16, but today we're going to focus on the stretch of the highway in the Oak Flat area…
Located just east of Superior, this project includes the addition of a two-mile-long westbound passing lane (mileposts 231-233), shoulder widening in Devil's Canyon (mileposts 233-234), bridge work at Waterfall Canyon (milepost 229) and drainage improvements (milepost 242).
Work started last summer and has required occasional closures, usually lasting up to 90 minutes, to allow for crews to safely complete blasting operations.
About those blasts…
Back when we wrote this blog post, we said the blasting was expected to continue through the end of 2015. But, as you can see in the video above, the blasting is still necessary.
As Senior Community Relations Officer Rodney Wigman explains, the contractor had a "better way to build this road" that requires the road to be built back into the embankment rather than out to a retaining wall. That means more blasting.
Crews have already cleared approximately 58,000 cubic yards of the rock embankment, but an estimated 50,000 cubic yards of earth still needs to be excavated. ADOT expects the blasting work to wrap up by the end of April.
"The state of Arizona and the Arizona Department of Transportation definitely appreciates the public's patience while we build this important road," Wigman says. "We just think it will be a better product, it will be a safer product and we'll save money in doing it."
You can find more project details, including upcoming closure/blasting notices on our website. You'll also find those reminders on the ADOT website's homepage and social media channels. For email updates, be sure to subscribe.