US 93 wildlife crossing honored with environmental award
US 93 wildlife crossing honored with environmental award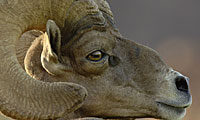 Photos courtesy of the Arizona Game and Fish Department
Over the past several years, ADOT has worked to transform the highly traveled US 93 between Wickenburg to the Hoover Dam from a two-lane highway to an environmentally friendly four-lane, divided highway.
A project of this scale will always present its share of issues, but widening the final section – from Kingman to the Mike O'Callaghan - Pat Tillman Memorial Bridge – provided ADOT with an especially unique challenge …
That final stretch also happened to be the stomping grounds of the country's largest contiguous herd of desert bighorn sheep.
Without some sort of solution, motorist safety would be at risk from the substantially increased chance of wildlife-vehicle collisions. But the sheep still needed to be able to cross the highway in order to reach essential resources on both sides.
Wildlife overpasses were thought to be the obvious fix … but, where should they be built along this 15-miles of new roadway?
To answer that question, ADOT worked with a number of state and federal agencies in a collaborative partnership to seek locations where the sheep were most likely to cross the highway. The Arizona Game and Fish Department, National Park Service, Bureau of Land Management and the Federal Highway Administration were all part of the effort.
The team was able to track the animals by placing electronic collars on them and using global positioning system tracking units to trace their movements over an extended period of time.
This research helped identify the most appropriate crossing locations for the herd. Three specially designed overpasses for bighorn sheep – the first of their kind in Arizona and the lower 48 states – were constructed, along with fencing, as part of the highway expansion.
The project has been successful. Cameras installed on the crossing bridges captured the desert bighorn sheep using the new overpasses, which are 100-feet wide and 203-feet long and the Federal Highway Administration awarded ADOT one of its top environmental honors, the 2011 Exemplary Ecosystem Initiative Award, for the successful completion of this project.
ADOT's Director of Environmental Services Todd Williams says the project was truly a joint effort of the multiple agencies involved.
"Without their support and teamwork, we would not have been able to accomplish as much as we did," he said. "This new section of divided highway in this environmentally sensitive area delicately addressed two critical issues: the safety of the traveling public and the need to preserve the livelihood of the Desert Bighorn Sheep, which are native to the Black Mountains. These new wildlife overpasses helped accomplish both objectives on this project."