VIDEO: See how far we've come with the South Mountain Freeway at I-10
VIDEO: See how far we've come with the South Mountain Freeway at I-10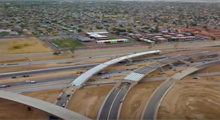 By David Rookhuyzen / ADOT Communications
As we shared this week, ADOT has reached a milestone at the Loop 202 South Mountain Freeway interchange rising at I-10 in west Phoenix. During a weekend closure of eastbound I-10, crews placed the last 21 of 186 bridge girders that will support transition ramps.
Though there is still plenty of work left to do, at a moment like this its always nice to zoom out a little and see what we've accomplished so far. You can do that with the video above as we show you an overview of the five future ramps and some of the finer architectural details.
To learn more about this interchange and other aspects of ADOT's largest single highway project ever, please visit SouthMountainFreeway.com.