For this volunteer, Adopt a Highway program has been an education
For this volunteer, Adopt a Highway program has been an education
By Mary Currie / ADOT Communications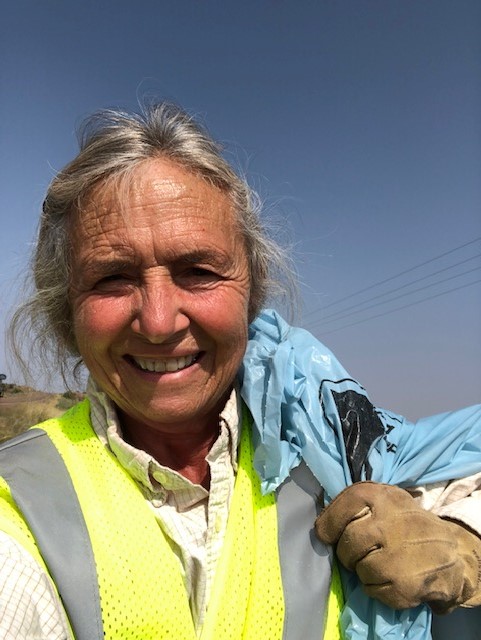 Kathleen Mendes thinks about beer bottles a lot. And furniture. And car parts.
Those are just a sampling of things she has seen and helped remove from her section of US 180 in northeastern Arizona.
Mendes became an Adopt a Highway volunteer back in October 2010, and has been cleaning between milepost 337 and 339 ever since. Back then there was a lot of litter that needed to be removed. Today it's more maintenance than anything.
The work is meaningful to her. She first moved to nearby Concho in 1999 and the area is home. She also feels an obligation to help leave a positive and respectful impression on the environment. When Mendes started cleaning her segment, it was an event to help instill as similar desire in others. People would come out to clean and she even made it into a scavener hunt for the kids. If the children were too young to help alongside the highway, they would be somewhere safe making crafts. Those kids are all grown now, but Mendes keeps cleaning her segment. She feels an obligation to do it and said she wishes everyone had a similar attitude. The only real investment is the time it takes to do it, Mendes said.
Her main advice for others considering adopting a stretch of highway is to not look at it as drudgery, but as an adventure.
For example, someone on the way to the dump lost a dresser. Mendes came upon it, the drawers lying nearby. She went to pick those up and found a rattlesnake underneath one. Before then she would have never thought about a rattlesnake being there since it was so near the road. It never occurred to her. She exercises greater caution now. 
In her years of doing this, as she looks at those beer bottles, car parts, and broken furniture, it's almost educational. 
It's also given her a lot more empathy for the people whose items she cleans up. It is not about discarded trash, but a million other stories that could have happened, she said.
"There is a lot to be learned. Why do people throw items from their vehicle? What is the behavior that creates the issue?" Mendes said.
If you'd like to join Mendes in keeping our state looking its best, visit azdot.gov/adoptahighway to pick our your own stretch of highway.