Work resumes on San Pedro Bridge project
Work resumes on San Pedro Bridge project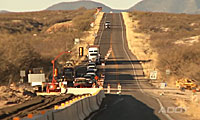 Work is getting underway on the San Pedro River Bridge replacement project … again.
About a year ago, construction started on the first phase of this project. Work was put on hold at the end of March to avoid disrupting the migratory bird nesting season (the bridge is in the San Pedro Riparian National Conservation Area). Before the hiatus, crews finished the eastbound side of the new bridge.
Now, work to build the westbound side of the replacement bridge has begun.
What this means for motorists
Since work has resumed, traffic in both directions on SR 90 will share the eastbound lane through the project area. A temporary traffic signal will be used during construction to guide alternating traffic through the single shared lane. Delays of eight minutes will be common around the clock until the project is complete in spring 2014. Drivers are advised to plan ahead and allow for extra travel time.
More about the San Pedro River Bridge
The San Pedro River Bridge on SR 90 is an important connection along the primary corridor between the communities of Sierra Vista, Tombstone and Bisbee.
The old bridge, constructed in 1955, is being replaced by a new structure featuring wider traffic lanes with shoulders that meet current standards and provide adequate space for vehicles, including emergency responders, bicyclists and pedestrians.
This project will increase in width of the highway bridge from the current 26 feet to 44 feet and will feature 12-foot traffic lanes in both directions and 10-foot shoulders. For even more on the project, visit the project Web page.