Arizona State Freight Plan
We are currently updating the Arizona State Freight Plan. The previous plan was approved approved on November 15, 2017. The current plan is an update to the previous plan and will be finalized in Fall 2022 and sent to FHWA for approval. The Freight plan establishes immediate and long-range plans for freight related transportation investments. More specifically, it identifies freight transportation facilities that are critical to the State's economic growth and gives appropriate priority to investments in such facilities. The State Freight Plan defines investment priorities that will generate the greatest return for Arizona's economy, while also addressing other key transportation system goals. The State Freight Plan provides Arizona with a guide for assessing and making sound investment and policy decisions that will yield outcomes consistent with the state's visions, goals, and objectives, and notably, promote regional competitiveness and economic growth.
Fact Sheets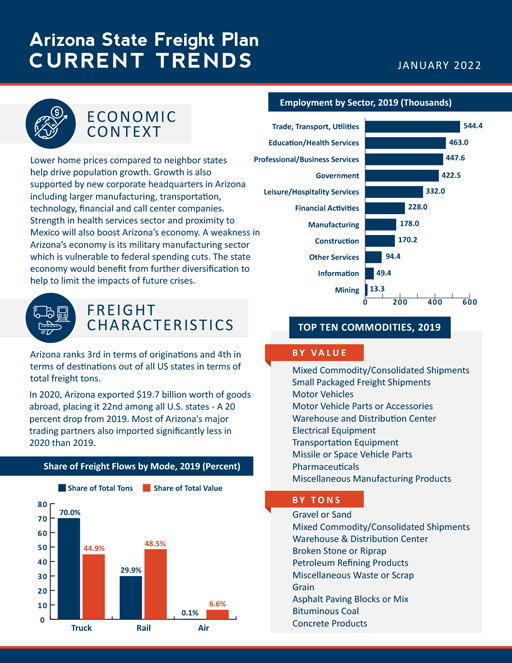 Current Trends Fact Sheet

Highways and Bridges Fact Sheet
Freight Advisory Committee (FAC) Activities
Materials presented at FAC Meetings will be added as they become available.
Future Meetings
ADOT Freight Advisory Committee Meeting #5 scheduled for Tuesday August 30th at 12:30.
Past Meetings