Interstate 10 / Loop 101 System Interchange
Interstate 10 / Loop 101 System Interchange
Overview
The Arizona Department of Transportation has initiated a study to evaluate improvements to the Loop 101 (Agua Fria Freeway) and Interstate 10 system traffic interchange in the West Valley.
The purpose of this study is to evaluate alternatives to the interchange that will enhance regional travel by improving safety, reducing congestion and improving connectivity.
Project Area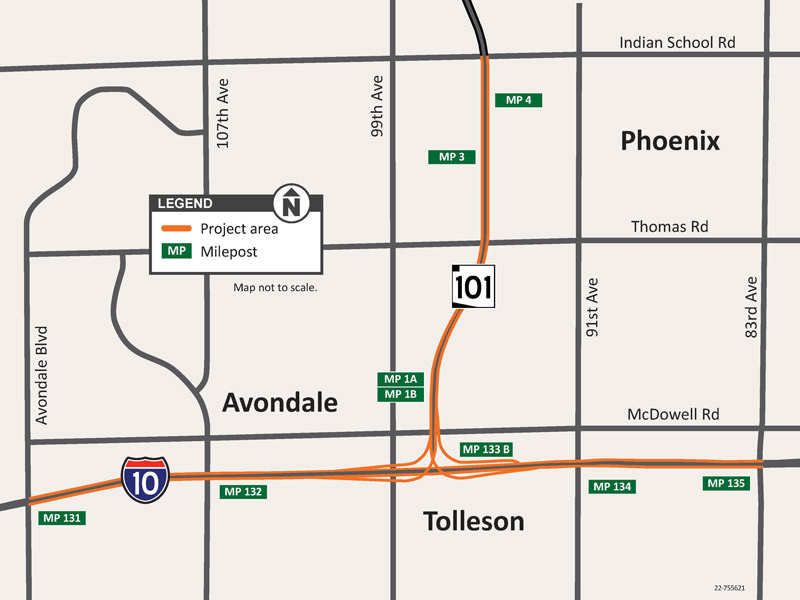 Maricopa County is one of the largest and fastest-growing regions in the United States, and the county's population is expected to increase by nearly 30 percent between 2020 and 2040. Traffic volume projections indicate congestion will worsen in the future due to growth in the region.
Study Elements
A new Direct High-Occupancy Vehicle ramp within the existing interchange that will accommodate travel to/from the north along Loop 101 and to/from the east along I-10.
A possible new connection between southbound Loop 101 and 91st Avenue. This connection would be separate from the Loop 101/I-10 system interchange ramps and may connect to the existing I-10/91st Avenue interchange ramps.
Evaluation of several other traffic interchange locations and connecting arterial roadways for possible improvement within the project area.
Public Input
A public meeting was held on Oct. 26 to present project alternatives. There will be an additional public meeting to provide the recommended alternative for the design of the improvements (tentatively planned for early 2023).
Stay Informed

Please subscribe to receive project updates by email.
ADOT welcomes your questions and comments. Please contact us in any of these ways:
By Phone: ADOT Bilingual Project Information Line: 855.712.8530
Teléfono: Línea de Información del Proyecto de ADOT: 855.712.8530
Online: Visit azdot.gov/contact and select Projects from the drop-down menu
By Mail: ADOT Communications, 1655 W. Jackson St., MD 126F, Phoenix, AZ 85007
Public Meeting: Interstate 10 / Loop 101 System Interchange
Feb. 23 Public Meeting
A public meeting was held on Feb. 23, to present alternatives for the Direct HOV lane and the proposed 91st Avenue connector ramp and more. If you were unable to attend, view the meeting documents, presentation and more here.
Oct. 26, 2022 Public Meeting
Meeting Recordings
The project team gave a presentation on the project, followed by an opportunity
for the public to ask questions or make comments online or by phone.
Meeting Documents
Comments/Questions
Project Email List
Subscribe to receive project updates by email.