US 93, I-40 West Kingman Traffic Interchange Project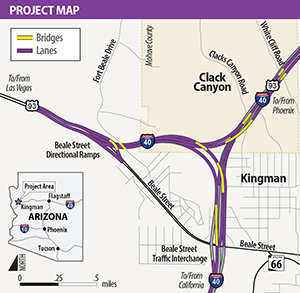 The Arizona Department of Transportation (ADOT), in coordination with the Federal Highway Administration (FHWA), initiated a study process in 2007 to investigate ways for improving traffic flow at the junction of Interstate 40 and US 93 in west Kingman. In January 2019, ADOT began design efforts to implement the study process recommendations.
History
ADOT has monitored the increased traffic growth and congestion in west Kingman that has occurred over the years. The traffic volume is more than the current diamond interchange is designed to accommodate.
In 2007, a feasibility study was initiated, and alternatives for a new system traffic interchange were identified. The proposed traffic interchange design includes a free-flowing connection between the two freeways without stopping at the ramp intersection. The new traffic interchange is being is designed to accommodate both current and projected traffic volumes for this area for the next 25 years. The Final Feasibility Report was completed, which identified a preferred improvement corridor.
In 2009, the preferred improvement corridor was further refined into a series of specific alignment alternatives. These alternatives were shared with the public, and our agency stakeholders, where a Most Favorable Alternative was developed. This information was completed and summarized in a Design Concept Report (DCR) in 2015.
Initial Design / Concept Refinement
The Final Environmental Assessment (FEA) was completed in July 2020, and the FEA documents are available for review. The findings will be incorporated into the preferred alternative, and ADOT will complete the final design phase (see Construction Timeline).
ADOT held an inter-agency stakeholder meeting as well as a public stakeholder meeting with downtown Kingman businesses in July 2019. The project team presented updates of the study to the Kingman City Council and Mohave County Board of Supervisors at the governing bodies' regularly scheduled meetings on Feb. 18, 2020. On May 28, 2020, ADOT held a call-in public hearing (see Public Hearing tab).
Construction Timeline
ADOT does not have the funds to build all of the improvements of a full system interchange at one time. Thus, the project will be separated into two phases, with the ramps between Phoenix and Las Vegas constructed first. Phase II will construct the ramps between Las Vegas and California, when the traffic demands suggest the improvements are needed, and when the funding can better be programmed. At all times, all directional movements will be provided.
Phase 1 of the project is currently included in ADOT's 5-year plan for construction to begin in late 2023/early 2024. The new $66 million interchange will help reduce traffic congestion by allowing motorists on US 93 to continue eastbound - without having to go through Beale Street. Conversely, motorists on I-40 heading to Las Vegas will continue westbound without having to go through Beale Street. Drivers will still be given the option to exit both highways at Beale Street to access local businesses, US 66, and downtown Kingman.
Stay Informed
Please subscribe to receive study updates by email.