ADOT Kids - Road Signs
ADOT Kids - Road Signs
Did you know that road signs are an important way to keep drivers and vehicle passengers safe on the roads?  Signs give instructions to motorists (drivers of cars and trucks), people walking (pedestrians) and bicyclists. In the U.S., roads signs are standardized by the federal government so that drivers in all states will understand the signs. The shape and color of a sign tell us what kind of sign it is.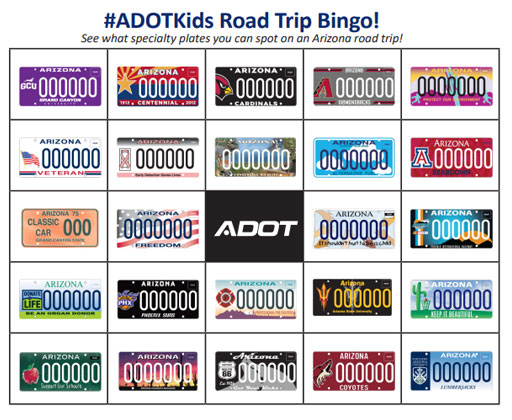 ADOT Kids Travel Bingo
Sharpen your knowledge about road signs, their shapes and purposes.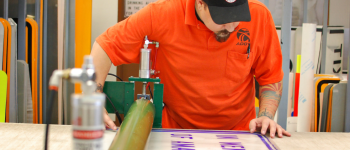 ADOT Kids: How road signs are made
Hey, ADOT Kids, you see signs all the time, but do you know how they are made?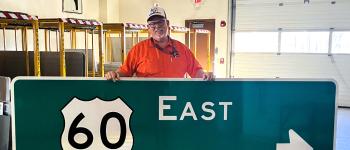 It's all in the signs for this ADOT employee
Some people like to knit or sew. Others love car racing, going to the theater or solving crossword puzzles. Tom Erickson's passion is making signs. And, as an ADOT sign shop employee, he gets to do it every day.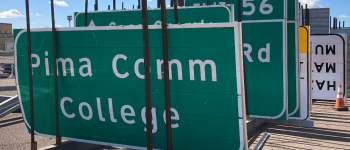 Making signs in ADOT's Sign Shop
Signs are everywhere on Arizona's highways, providing information about speed limits, nearby locations, rest areas and more. But how and where are these signs made?
ADOT has a Sign Shop where signs big and small are produced. The shop can produce signs as large as 16 by 30 feet -- these are the big, green signs above highways. Signs are made of aluminum and many sign blanks arrive pre-cut in standard shapes and sizes. Others are screen-printed.