ADOT testing larger 'Wrong Way' signs
ADOT crews put up some new signs last week, but hopefully you'll never get a good view of them while you're on the road…
That's because these signs are there to tell drivers that they are driving the WRONG WAY.
"Do Not Enter" and "Wrong Way" signs are already in place along freeway off-ramps, but these new, larger versions are being installed and studied along exit ramps at six freeway interchanges. The decision to enhance wrong-way driver signs and markings and observe their effectiveness follows discussions between ADOT, the Arizona Governor's Office of Highway Safety and the state's Department of Public Safety.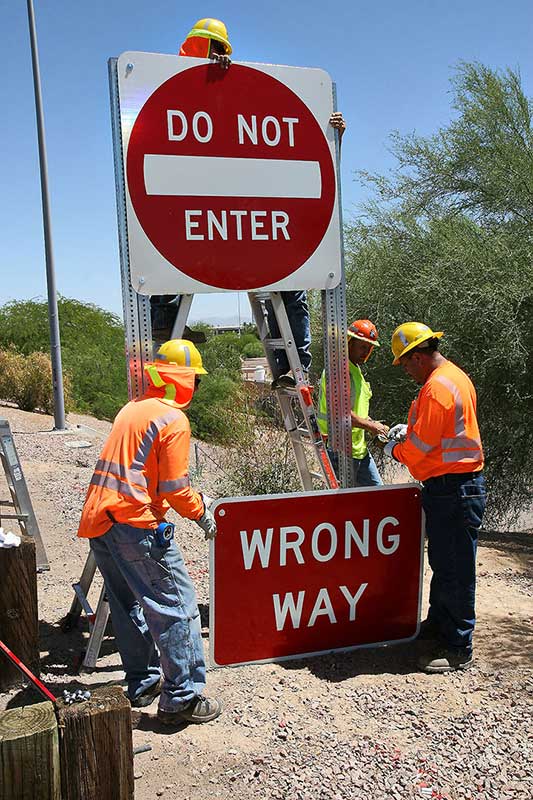 In addition to being bigger (the "Do Not Enter" signs are increased in size from 30 by 30 inches to 48 by 48 inches and the new "Wrong Way" signs measure 48 by 36 inches.), the signs are being placed lower on their posts to see if that will help in alerting confused or impaired wrong-way drivers.
As you can see in the video above, crews also added pavement markers in the shape of large arrows pointing the right way along the exit ramps. Those pavement markers have reflectors to display the color red as a warning to any drivers going the wrong way on the ramps. The reflectors are already in use as part of the lane markings on freeways.
It is not yet known how long the new signs and other changes will be studied before a decision is made about an expansion of the program to other state freeway or highway locations. There are more than 100 traffic interchanges on the Phoenix-area freeway system and more than 475 interchanges along the rest of the state highway system.
ADOT and other public safety agencies work in support of the three E's of highway safety: engineering, education and enforcement. The sign changes and the addition of the reflective pavement marker wrong-way arrows are examples of near-term engineering steps ADOT can implement and study as part of an overall effort to reduce the risk of wrong-way drivers.