ADOT Blog marks 600th post
ADOT Blog marks 600th post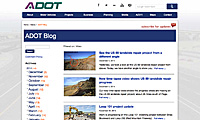 We've reached a milestone, here on the ADOT Blog.
Today, we mark our 600th blog post! We thought we'd take this as an opportunity to say thank you to all of our readers. We really appreciate everyone who takes the time to visit this blog
Before we get started on the next 600, we want to look back and point out a few of our all-time favorite blogs post...
Finally, we want say our thanks again and remind you that we're open for feedback. Feel free to tell us about the types of stories and videos you want to see more of. Let us know the transportation questions you have that we haven't answered yet.