ADOT Kids: Meet Engineer-in-Training Babak Dehghani
ADOT Kids: Meet Engineer-in-Training Babak Dehghani
By John LaBarbera / ADOT Communications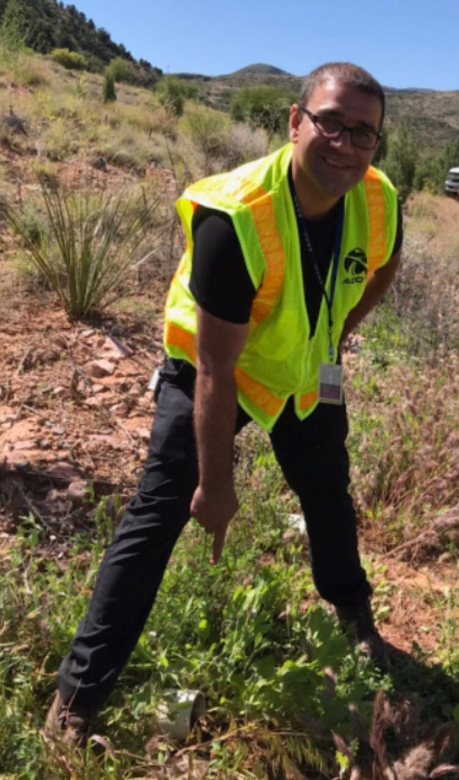 Have you ever wondered what it's like to be an ADOT engineer? 
Meet Babak Dehghani. He's a construction engineer in ADOT's Engineer-In-Training (EIT) program. He decided to become an engineer because "you could literally change the world."
That's barely a brag! Our engineers certainly make Arizona move by ensuring that every road, bridge, airport, water supply and mass transit system is well-planned and completed.
Babak entered the EIT program in January 2020 and in just over a year has worked for a lot of different groups ranging from roadside development to the bridge group.
"Currently I am in construction operations," Babak said. "The ADOT EIT program is an amazing introduction to the professional world. By working under registered professionals you get the training and experience you need to become a professional engineer. "
How did he get here? Well, first, Babak went to school. To be accepted in the EIT program, you must have a bachelor's degree in engineering. A few lessons Babak picked up from his time attending the Fulton School at Arizona State University have stuck with him. 
"The important things you learn from school are in the methods of learning and working well with others," Babak continued,  "The most important lesson is how to deal with the real world."
Engineers play an important role for all ADOT projects. Babak says. "It is the transportation engineer's responsibility to plan, design, build, maintain and operate these systems of transport, in such a way as to provide for the safe, efficient and convenient movement for the public."
He says he's most happy with his work to build a brand new type of freeway interchange at I-10 and Houghton. 
"I was very proud to work under registered professionals and paraprofessional staff members to see the first diverging diamond interchange built in Tucson."
Do you have an interest in becoming an engineer? Well, Babak has some tips for you.
"Take the FE exam before graduation."
That's the Fundamentals of Engineering exam, and passing it is one of the first steps you'll take to become a professional engineer. Babak also said it's important to pick exactly what type of engineer you want to be. Plus, when you are in school, you can find engineering groups to be a part of on campus. Groups like the American Society of Civil Engineers, American Concrete Institute, and Construction Management Association of America will help when you go searching for your dream job.
"It needs to be on your resume," Babak said.
Just what does Babak want to do when he graduates from the EIT program in 2022?
"I would love to be part of the I-10 Broadway Curve Improvements project." He may well get that chance, as the project is slated to start soon and last until 2024.
For now, though, he's thrilled to be part of the EIT program.
"I'm lucky to work alongside extremely capable and experienced engineers who are always willing to help, guide, and prepare you for the professional world of engineering."
And he's keeping a positive outlook as to what's on the horizon for transportation in Arizona.
"Future technologies can improve the safety, efficiency, reliability, and resilience of our transportation network."
 If you are interested in being an "engineer-as-a-career," stayed tuned for more ADOT Kids videos, blogs and activities running this week for National Engineers Week. And make sure to check out the ADOT Kids website or find #ADOTKids on social media!