ADOT outreach effort wins top national award
ADOT outreach effort wins top national award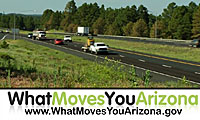 Remember when we first blogged about Arizona 's Long-Range Transportation Plan?
It's the plan that's updated every five years and helps set ADOT's priorities when it comes to the state's transportation needs over the next 25 years.
You might also remember that in an effort to get significant feedback about where Arizonans would like to see their transportation dollars spent, ADOT tried something a little different in terms of public involvement.
Steering away from the traditional public meeting route, we launched an extensive outreach campaign – coined What Moves You Arizona – as a coordinated effort to communicate information about the multibillion-dollar gap between the state's transportation needs over the next 25 years and anticipated revenue.
What Moves You Arizona offered a way to reach out to as many people as possible and give everyone the opportunity to have their voice heard – the opportunity for Arizonans to tell ADOT what was important to them regarding the future of transportation in their state.
Here's a breakdown of the campaign:
12 Meeting-In-a-Box kits requested and distributed.
6 e-newsletters with a total distribution of 128,693 sent.
3 educational videos created generating 2,720 online views.
66 DVD requests fulfilled.
86 total newspaper advertisements placed along with spots on 23 radio stations.
2,385 surveys completed (an unprecedented response!)
Not only did the outreach efforts generate an unprecedented amount of public input, but the campaign was awarded with the American Association of State Highway and Transportation Officials' Excel Award – AASHTO's highest award for public relations programs and campaigns.
The award was announced Tuesday at the National Transportation Public Affairs Workshop (NTPAW) in Iowa! NTPAW is sponsored each year by AASHTO's subcommittee on transportation communications.
Thanks to the numerous survey responses and the comments made at the workshops, ADOT was able to incorporate all that feedback into the Long-Range Transportation Plan and determine a recommended investment choice and associated performance measures. The final plan is scheduled to be adopted by the State Transportation Board in October and will be released in November.
ADOT appreciates everyone who attended workshops, provided feedback and took the time to complete a survey. Your participation gave Arizonans a voice in shaping our transportation future.
If you haven't yet, be sure to "like" us on Facebook where you can always give us your feedback and input!