From the Archives: Technology moves MVD customer service ahead
From the Archives: Technology moves MVD customer service ahead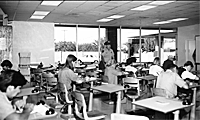 By Angela DeWelles / ADOT Communications
There was a time when just about any MVD-related transaction you wanted to complete had to be done in person and in ink …
As you can see from the photos above – all of which were taken in the 1970s – operations have modernized since then. Over the decades, technology advancements have made things easier.
MVD customers can now carry out many transactions online and from home. Even when you do visit an MVD office, computers used by customer service reps make the process smoother than it was, back when typewriters, massive filing cabinets and carbon copies were all part of the equation.
Here in 2016, MVD still seeks out ways to improve the customer experience.
"We're continually looking to see where we can save time or even a visit to an office," ADOT Motor Vehicle Division Director Eric Jorgensen said. ""Out of line and safely on the road' is the way we're doing business to benefit the residents of this state."
Right now, MVD is finding ways to leverage new technology to improve processes – that includes expanding what can be done through ServiceArizona. Another innovative approach is going to allow MVD to modernize its computer system over the next few years through a partnership with IBM, which maintains ServiceArizona.com.
Besides those big technological advances, MVD is trying out a number of other, smaller adjustments. From signage updates to shifts in how customers line up in an office, MVD is experimenting to see what works and what doesn't.
These MVD efforts are just part of an agency-wide commitment to continuous improvement that involves every aspect of ADOT operations.
We'll be blogging more about these continuous improvements in the coming weeks. We hope you'll stay tuned and let us know what you think. In the meantime, check out this recent news release for additional details.
It's safe to say things have changed since 1912 when the Arizona Highway Department was first established. But you don't just have to take our word … we've got plenty of pictures to prove it. We combed through our archives and decided to periodically post these photos from the past in a blog series we're calling, "From the ADOT Archives."