Pull Aside • Stay Alive: Will you know what to do?
Pull Aside • Stay Alive: Will you know what to do?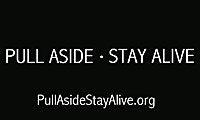 We're loving all the Haboob Haikus that have been rolling in this week…
Like last year, this poetry challenge with the funny name has helped us accomplish an important goal, which is to get people talking about the danger of driving in dust storms. Because we cannot forget that dust storms can pose very real risks to motorists in this state – just take a look at the video above for proof.
Need more proof? According to the most recent Crash Facts report, in 2012 there were 98 crashes that occurred during "blowing sand, soil, dirt."
It's too many, but at least that number is down from 2011 when there were 193 crashes.
While we're not taking credit for the reduction (the statistic really varies year to year), we do hope that making people aware of dust storm safety means more drivers will continue to pull aside and stay alive.
So, here's where we're going to (once again) remind you of what to do if you encounter a dust storm. We hope you remember these tips – and share them with people you know – as we head into Arizona's monsoon season (you can even head over to PullAsideStayAlive.org and print a few copies to post at work and keep in your glove box!).
Avoid driving into or through a dust storm.
If you encounter a dust storm, check traffic immediately around your vehicle (front, back and to the side) and begin slowing down.
Do not wait until poor visibility makes it difficult to safely pull off the roadway — do it as soon as possible. Completely exit the highway if you can.
Do not stop in a travel lane or in the emergency lane; look for a safe place to pull completely off the paved portion of the roadway.
Stop the vehicle in a position ensuring it is a safe distance from the main roadway and away from where other vehicles may travel.
Turn off all vehicle lights, including your emergency flashers.
Set your emergency brake and take your foot off the brake.
Stay in the vehicle with your seat belts buckled and wait for the storm to pass.
Drivers of high-profile vehicles should be especially aware of changing weather conditions and travel at reduced speeds.
A driver's alertness and safe driving ability are always the top factors in preventing crashes.
For even more on dust storm safety, please visit PullAsideStayAlive.org.