Throwback Thursday: Ash Fork is at the right place
Throwback Thursday: Ash Fork is at the right place
By David Rookhuyzen / ADOT Communications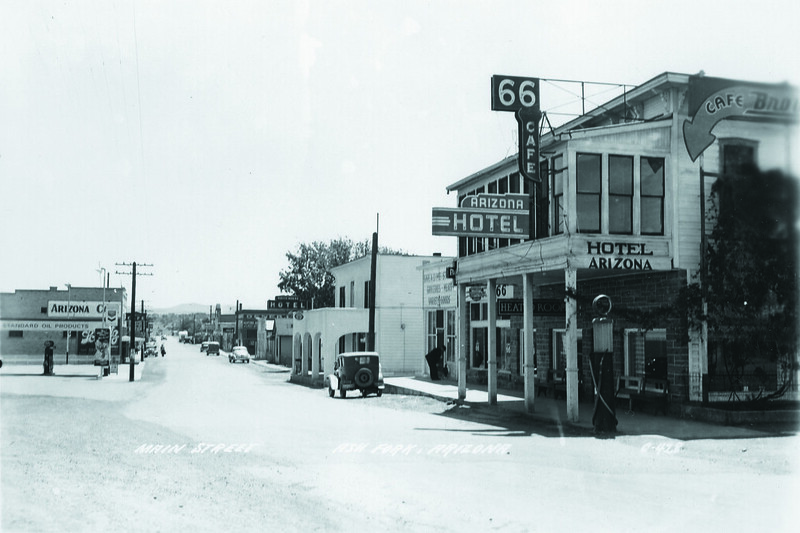 It seems like we can't get enough of talking about old US Route 66. Though it has been a defunct designation in Arizona for 35 years now, the legacy of the great Mother Road continues to inspire and inform us today.
Perhaps that can be seen nowhere clearer than in the towns left along its route. Which brings us to this photo. As you might be able to see, this is an undated photo of Ash Fork, which today sits at the junction of State Route 89 and Interstate 40. There's no date on it, but we figure that there are enough context clues – unpaved roads, vintage vehicles, buildings, old time gas pumps – to give someone enough information to track down a rough year. If that person is you, please give us your best guess! The only thing we can say for sure is that it was in a collection of photos that predate 1950. 
But, this was a good opportunity to look into the history of Ash Fork and where it came from. It's origins are actually tied to transportation, but predate the Main Street of America by decades. It's also been very fortunate to always sit at important junctions.
In his "Roadside History of Arizona" state historian Marshall Trimble says the town was founded in 1882, when Cooper Thomas Lewis built a small grocery store next to the local railroad tracks. Skip forward a few years and the community was also graced with a post office and Wells Fargo station. In 1893 the townsite moved to the southside of the rail line because all the buildings at the original townsite on the north side were destroyed by a fire.
The early 1890s also had plenty of good in store, as a rail line connected it with Prescott and eventually Phoenix. The aptly named Santa Fe, Prescott and Phoenix line may have been longer that the competing route going through Black Canyon, but as our Arizona Transportation History says, it was actually quicker and more comfortable. This established rail route, which also went through Wickenburg, may have also been a factor when the original Phoenix-to-Prescott road was built in the early 20th century.
Trimble also says that the connecting of Phoenix and Prescott via the railroad is where many historians date the closing of Arizona's frontier period.
In the 1920s, with arrival of the automobile age and the start of the famous US 66, Ash Fork became one of many towns served by the motorists now traveling between Los Angeles and Chicago. Ash Fork even boasted the Hotel Escalante, of the famouse pit stops/restaurants/hotels run by tourism magnate Fred Harvey.
The community was hit by a series of setbacks, such as the railroad line moving 10 miles to the north in the 1950s, and Interstate 40 deciding to bypass it in the 1970s. 
Though the highway doesn't run through town any more, Ash Fork still sits were State Route 89 meets I-40, meaning there is still a need for gas, snacks and a place to stop. As this photo and modern Ash Fork could tell you, location really is everything.