Tow truck parade kicks off Move Over Awareness Day
Tow truck parade kicks off Move Over Awareness Day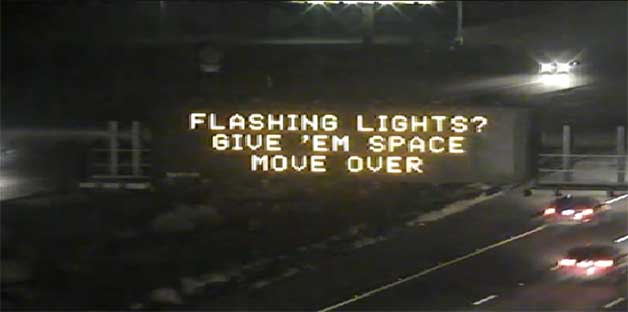 By Doug Pacey / ADOT Communications
It's no secret that ADOT uses overhead signs to spread safety messages to motorists in Arizona. Some messages appear briefly and never resurface – these are usually related to one-time events, like concerts – and others become part of a regular rotation.
On Saturday, as part of "Move Over" Awareness Day, this recurring message will appear on overhead signs statewide:
FLASHING LIGHTS?
GIVE 'EM SPACE
MOVE OVER
In addition to displaying this safety message on about 100 overhead signs statewide, the Arizona Professional Towing & Recovery Association is promoting "Move Over" Awareness Day with a tow truck parade and family-friendly event on Saturday.
Arizona's "Move Over" law requires motorists to mover over one lane – or slow down if it is not safe to change lanes – when driving by any vehicle with flashing lights pulled to the side of a road or highway. Vehicles with flashing lights includes first responders, ADOT trucks, passenger cars with emergency flashers and tow trucks.
Tow truck operators are exposed daily to the dangers of working in and alongside traffic. Nationally, one tow truck operator is killed every six days. First responders and highway workers are also at risk. Drivers can save lives, including their own, by paying attention and giving responders room to do their jobs.