Trips to the MVD eliminated for learners' permits
Trips to the MVD eliminated for learners' permits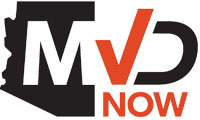 By Doug Nick / ADOT Communications
Fifteen years and six months.
Ask any parent and they will tell you that's exactly the amount of time it takes for them to get gray hair, because that's how old your kid has to be in order to get a learners' permit.
This is a modern phenomenon, of course. Back in the day, parents didn't have to think about this.
George Washington had a dad, and the father of the Father of our Country didn't have to worry about his son George falling off his horse at the tender age of 10 or whatever. Nope, li'l Georgie just rode Ol' Paint without any thought of having a permit and instead used his brainpower to invent America.
Julius Caesar, remember him? His mom never gave one thought to Jules taking the chariot for a spin when he was a lad. Instead, she spent her time in the kitchen inventing a great salad…
But today, well, we have paperwork because getting behind the wheel is kind of a big deal. No, it's actually a REALLY BIG deal, and we want every driver to be well-informed about driving laws and procedures during the learning process that happens before getting an actual Driver License. But we also want to make the process for getting the Learners' Permit more efficient.
It's called the Permit Test @ Home, and it will mean one less reason to drive to the MVD to take a written test, which means Junior can take the test in your family room and spend more time doing homework. Yea!
The Permit Test @ Home is available to parents by setting up a free personal AZ MVD Now account, which you find at ServiceArizona.com. The parent or guardian will then register their teen for the Permit Test @ Home and agree to the terms. Parents must certify that they will proctor the exam fairly, which, as you will see in a moment comes with the added motivation of the survival instinct. For teens under the age of 18, the application must be signed by a parent or guardian who is responsible for damage caused by negligence or the willful misconduct of the child. Also, state law requires that any child with a permit may only drive with a licensed driver in the front seat. That's a pretty strong motivation for the licensed driver, who is usually dear ol' mom or dad, to ensure the permit holder has faithfully learned enough to pass the test.
Oh, we should also mention that one thing hasn't changed: to get an actual Driver License at the age of at least 16, potential drivers will still have to take a road skills course. That's in a car, not a horse… or a chariot. Times change, and so does MVD.