US 89 landslide: Final phase of the repair
US 89 landslide: Final phase of the repair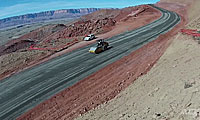 The landslide-damaged stretch of US 89 has come a long way in the past two years...
You might remember that an early morning landslide on Feb. 20, 2013 caused a section of the roadway to buckle near Page – back then, the road looked like this.
Before crews could even begin repairing the road, ADOT provided immediate emergency access in the area and kicked off an extensive geotechnical investigation. ADOT also paved US 89T (formerly Navajo Route 20) to serve as the detour for motorists driving to and from Page. In addition, there were environmental, utility and right-of-way processes to complete. Around that time, a long-term repair solution was identified.
Work did get started last summer and has included moving about 1 million cubic yards of rock and dirt. Crews have removed the material to construct a downslope buttress to stabilize the area.
Now, 24 months after the landslide, progress is clearly visible, as you can see in the video above.
So, what's left to do?
Not all that much, considering how big of a project this has been.
"We've entered the final phase of the project," says ADOT Senior Resident Engineer Steve Monroe. "We're now starting to actually rebuild the road itself. They'll bring in some aggregate base, put several layers of that down, wet it down, compact it, wet it down, compact it, get that all in place. After that, we can start paving. When that's finished, then there will be a half-inch of friction course, just another layer of asphalt that goes on. Then we can come back do the final striping, put in the recessed pavement markers, the rumble strip and then we'll have it opened up to traffic before the summer tourist season."
Find the latest on the project, by visiting some of our previous posts. Don't forget to stay tuned ... we'll continue to share US 89 details here and we look forward to blogging about the grand reopening.