The value of social media (aka why did we #HaboobHaiku)
The value of social media (aka why did we #HaboobHaiku)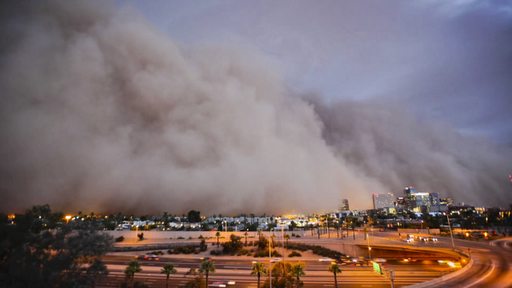 By Nicole Sherbert
ADOT Assistant Communication Director
We've been pretty entrenched in social media this week so we thought we'd take this opportunity to answer a question we get asked from time to time... 
Why, as a state agency, does ADOT commit resources to social media?
If you're an ardent ADOT Blog follower, you know that the easy answer to that question is education.
Whether we're educating users about their transportation system, helping our customers find needed services, explaining and soliciting input on transportation planning, showing what goes into building a freeway, or trying to explain succinctly how transportation is funded in Arizona, our primary goal is to educate and inform our readers so they'll have a better understanding of how their tax dollars are spent.
But the potential of social media goes so much further than us delivering our message...
Building public awareness
You're reading this blog, so chances are you've seen our Haboob Haiku challenge this week.
By all accounts, it's been an incredibly successful effort – 100s of tweets and retweets, national media coverage, record blog views and nearly 2,000 PSA views on YouTube. But why did we do it?
As much fun as we've had besting each other's creativity around the office and following the #HaboobHaiku trend on Twitter, the answer is actually very simple: It got people talking about the dangers of driving in dust storms.
Dust storms are a very real threat to public safety in Arizona. According to the 2010 Crash Facts (the most recent year available), a statewide total of 48 crashes occurred during "blowing sand, soil, dirt." Those crashes resulted in two fatalities and 41 injuries.
While our haikus won't prevent all future visibility-related crashes, the buzz behind them has -- at the very least -- helped build awareness about dust storm safety tips and introduced the concept of Pull Aside, Stay Alive.
Building an audience
Contrary to what people might jokingly think, ADOT does not go around closing roads just because we have a lot of orange traffic cones. If ADOT has closed a road, I can absolutely promise you there is a very important reason -- and it's a reason we want everyone to know about! The more people who like us on Facebook, follow us on Twitter, watch our YouTube channel and read our blog, the more people we are able to inform about major travel impacts or safety advisories when they occur.
For example…last year, ADOT had to close Interstate 10 for ten hours and the only way around was a 67-mile, 2-lane-highway detour. Not exactly the kind of message we enjoy delivering (and, just for the record, a very extreme example).
In the past we would have had to depend almost entirely on traditional media outlets to deliver that message for us. And while we will always rely heavily on and continue to partner with the media, social media allows us to target that message, reach out to our users directly on a strategic time frame, and rely on our social network to spread the word among their users and friends.
Think of the old adage, "If a tree falls in the forest and no one's there to hear it, does it make a sound?" Well, if ADOT posts an important public safety warning and no one's there to read it...?
There are a lot of factors that go into building an audience, the most important of which is meaningful and engaging interaction (#HaboobHaiku anyone?).
Emergency Communication (Here's where you come in!)
So, social media is a great tool for building buzz, interest and engagement over time. We aggressively launched the monsoon safety awareness campaign Monday morning and it steadily built momentum through our social and traditional media outlets reaching national media attention late Wednesday afternoon (incredible success, but that's still three days, folks).
But what happens when the dust storm actually hits -- with little to no warning?
The National Weather Service predicts that Arizona will experience three major dust events this season. As soon as that dust advisory is issued, you can bet ADOT will start tweeting and posting both the advisory and our driving tips over at PullAsideStayAlive.org.
This is where you come in and it's why we build our audience during the awareness phase: so when there is an emergency, you are there to help us spread the word. When you see that Facebook travel advisory post, please share it. As you're skimming through your Twitter feed and notice something seemingly urgent, take an extra second to hit retweet!