VIDEO: Coalition of national agencies honors ADOT for US 60 safety project
VIDEO: Coalition of national agencies honors ADOT for US 60 safety project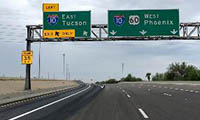 By Doug Nintzel / ADOT Communications
It wasn't the Oscars, and, more importantly, it was about highway safety. As the video above shows, ADOT was in the spotlight at a recent ceremony in Washington D.C., when a national group honored one of the agency's creative safety solutions.
The National Operations Center of Excellence presented its Best Transportation Systems Management and Operations (TSMO) Project Award to ADOT's US 60 Superstition Freeway Improvement Project in Tempe. Representatives of ADOT's own Transportation Systems Management and Operations division were on hand to accept the honor.
For the Superstition Freeway project, an ADOT team evaluated a section of westbound US 60 between Mill Avenue and the I-10 interchange where a concerning number of crashes, most of them minor, had resulted backups during busy periods.
In collaboration with the city of Tempe and the Arizona Department of Public Safety, ADOT adjusted lane striping and installed new signs along that stretch of westbound US 60 in summer 2018. The result: improved traffic flow in the left lanes, leading to a significant reduction in crashes. The video features an ADOT engineer who worked on this project explaining its effects.
The National Operations Center of Excellence serves as a nationwide resource for the Transportation Systems Management and Operations community. Its partners include the American Association of State Highway and Transportation Officials, the Intelligent Transportation Society of America and Institute of Transportation Engineers. The Federal Highway Administration also supports the effort.
ADOT's Interstate 17 Wrong-Way Vehicle Alert System being tested in Phoenix also received a national runner-up award in the competition.