Winter weather suspends northern projects for the season
Winter weather suspends northern projects for the season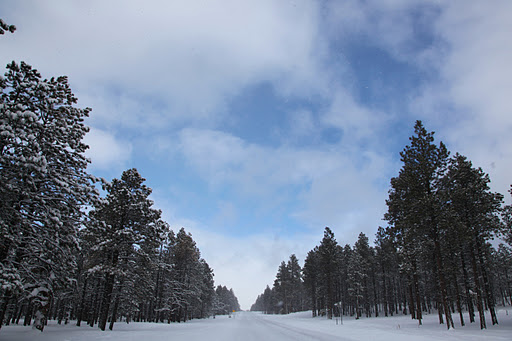 The official start of winter is approaching, but the cold weather is already here!
Over the past few weeks, we've told you how ADOT prepares for the snowy conditions common this time of year in Arizona's high country.
Getting the snowplows ready, along with plenty of deicer ready, along with closing down certain low-traffic/heavy snow routes are vital steps, but there's an additional action ADOT takes each year as the temperatures start to dip …
Every winter ADOT has to suspend work on projects in the state's high country. This is necessary because it is too cold to pour concrete or place asphalt pavement (rubberized asphalt is especially sensitive to temperature variations).
But that doesn't mean our crews just drop what they're doing!
Work is stopped at a logical point and the work zone is generally left in a condition that doesn't impede traffic. Drivers may notice some barricades and should be aware as they're driving through project sites.
And as for the actual crews…ADOT workers who manage or inspect the projects either switch gears to next-year's planning or are reassigned to maintenance for the season.
Here's a list of projects that have either already been suspended for the winter, or will be stopped in the next week or so:
SR 64 roadway and streetscape improvements in Tusayan
I-17 Munds Park traffic interchange
US 93 repaving north of Kingman (top layer of rubberized asphalt will be finished in the spring)
US 93 repaving south of Wikieup
SR 260 passing lanes between Overgaard and Show Low
US 60 repaving between Springerville and the New Mexico state line
I-40 repaving through Holbrook
SR 87 repaving north of I-40
Work on other projects, such as the widening of SR 260, 20 miles east of Payson, continues because the current stage involves blasting and excavating, which can be done in cold weather.
For tools, maps and other information designed to assist you this season, check out ADOT's Know Snow Web page. You also can stay up-to-date with the latest highway conditions by visiting the ADOT Traveler Information Center, or by calling 511.