Grand-35 Study
Grand-35 Study
Note: ADOT has identified two potential options for improving the intersection.  For more information please visit ADOTGrand35Study.com.
US 60 (Grand Avenue), 35th Avenue and Indian School Road Intersection Improvements
The Arizona Department of Transportation (ADOT), in coordination with the City of Phoenix and Maricopa Association of Governments (MAG), has initiated a Draft Environmental Assessment (EA) and Design Concept Report (DCR) for the US 60 (Grand Avenue), 35th Avenue and Indian School Road intersection (known as the Grand-35 Study).
Study Purpose
The study will evaluate potential transportation improvements at the intersection of Grand Avenue, 35th Avenue, Indian School Road and the BNSF railroad crossing to reduce traffic congestion, enhance safety and improve pedestrian and bicycle facilities.
The study will evaluate raising or lowering one or more of the roadways through an underpass or overpass and evaluate improvement alternatives. The study will consider social, economic and environmental impacts of the alternatives, and refine the proposed alternatives to identify a preferred Build Alternative will be compared against a No Build (do-nothing) alternative as part of the Draft Environmental Assessment (EA) document. The selected alternative will be identified in the Final Environmental Assessment document. 
Map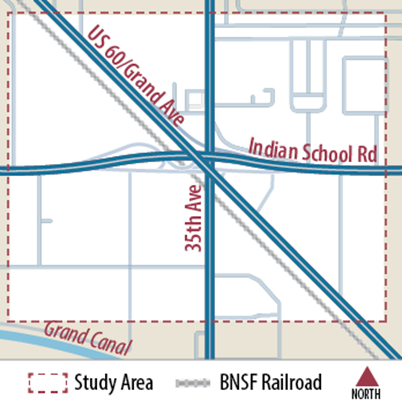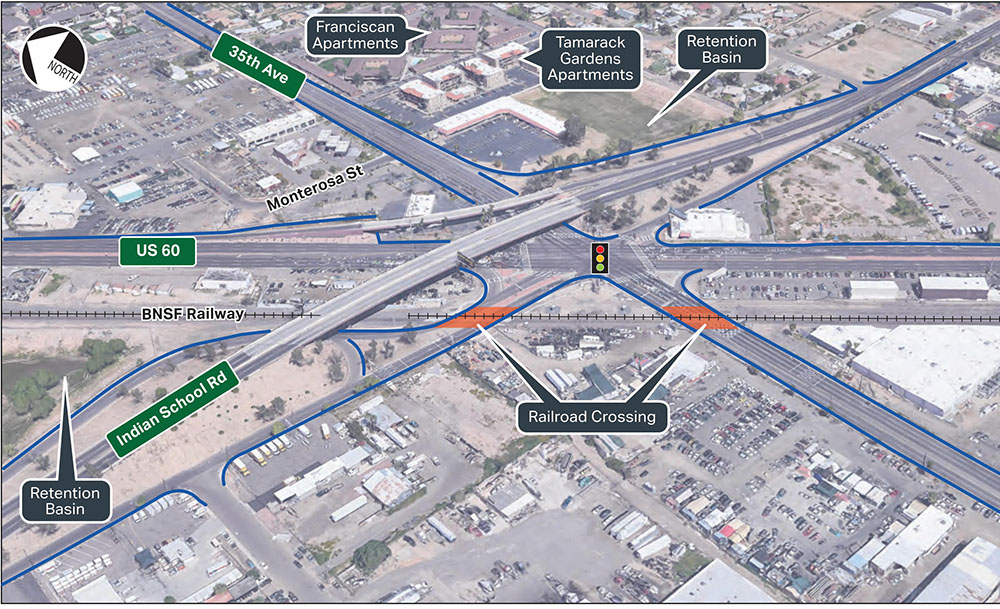 Study Process and Timeline
Current Study Phase
The study is currently in the public scoping phase. During this phase, receiving input from as many affected and interested parties as possible is an important part of the study. Input received during the public scoping phase will help refine alternatives, learn important information for the study team to consider in evaluating the alternatives and better understand the public's priorities and concerns.
Study Process

Study Timeline
Proposed Project Schedule: Design, Right Of Way, Construction
ADOT anticipates releasing the draft EA document in mid-2023 and finalizing the study in 2023.
If a Build Alternative for interchange improvements is selected, the following tentative schedule has been identified:
Design and Right of Way Acquisition – Beginning in 2024
Construction – Beginning in 2025
Public Meetings and Input - Grand-35 Study
Meeting documents
Public Involvement and Alternatives Meeting Summary
Meeting Presentations
Spanish Presentation - Presentación en Español
Vietnamese Presentation - Bài Thuyết Trình Tiếng Việt
Contact Us - Grand-35 Study
Study contact information
Email: 

[email protected]

Phone: 602.474.3952
USPS Mail: ADOT Grand-35 Study c/o HDR, Inc. 20 E. Thomas Rd., Suite 2500, Phoenix, AZ 85012
Stay Informed

Please subscribe to receive study updates by email.
The environmental review, consultation and other actions required by applicable Federal environmental laws for this project are being or have been carried out by ADOT pursuant to 23 USC 327 and a Memorandum of Understanding dated 04/16/2019 and executed by FHWA and ADOT.
Las consultas, la revisión ambiental y otras acciones requeridas según las leyes ambientales federales correspondientes para este proyecto se están llevando a cabo o se han llevado a cabo por ADOT de acuerdo con 23 U.S.C 327 y un Memorándum de Acuerdo con fecha del 16 de abril de 2019 y se han realizado por FHWA y ADOT.
Pursuant to Title VI of the Civil Rights Act of 1964, the Americans with Disabilities Act (ADA), and other nondiscrimination laws and authorities, ADOT does not discriminate on the basis of race, color, national origin, sex, age, or disability. Persons who require a reasonable accommodation based on language or disability should contact Nancy Becerra at 623.695.7411 or [email protected] Requests should be made as early as possible to ensure the State has an opportunity to address the accommodation.
De acuerdo con el Título VI de la Ley de Derechos Civiles de 1964, la Ley de Estadounidenses con Discapacidades (ADA por sus siglas en inglés) y otras normas y leyes antidiscriminatorias, el Departamento de Transporte de Arizona (ADOT) no discrimina por motivos de raza, color, origen nacional, sexo, edad o discapacidad. Las personas que requieran asistencia (dentro de lo razonable) ya sea por el idioma o discapacidad deben ponerse en contacto con Nancy Becerra al 623.695.7411 ó [email protected]. Las solicitudes deben hacerse lo más antes posible para asegurar que el Estado tenga la oportunidad de hacer los arreglos necesarios.
Theo Tiêu đề VI của Đạo luật Dân quyền năm 1964, Đạo luật Người Mỹ Khuyết tật (ADA) và các đạo luật về không phân biệt đối xử và căn cứ khác, ADOT không phân biệt đối xử trên cơ sở chủng tộc, màu da, nguồn gốc quốc gia, giới tính, tuổi tác hoặc tình trạng khuyết tật. Những người cần sự điều chỉnh hợp lý vì các lý do ngôn ngữ hoặc tình trạng khuyết tật nên liên hệ với Nancy Becerra theo số 602.474.3952 hoặc địa chỉ [email protected] Nên thực hiện các yêu cầu càng sớm càng tốt để đảm bảo Tiểu bang có cơ hội thực hiện sự điều chỉnh.