Grand-35 Study
US 60 (Grand Avenue), 35th Avenue and Indian School Road Intersection Improvements
Note: The study scope of work is currently being revised for the potential addition of a high capacity transit corridor in that area.
The Arizona Department of Transportation and the Federal Highway Administration, in coordination with the BNSF Railway, city of Phoenix and Maricopa Association of Governments, initiated an Environmental Assessment (EA) and Design Concept Report (DCR) for the US 60 (Grand Avenue), 35th Avenue and Indian School Road intersection.
Study Purpose
The study will evaluate potential transportation improvements at the intersection of Grand Avenue, 35th Avenue, Indian School Road and the BNSF railroad crossing to reduce traffic congestion, enhance safety and improve pedestrian and bicycle facilities. Potential alternatives could include raising or lowering one or more of the roadways through an underpass or overpass to reduce delays and eliminate traffic crossing the BNSF railroad.
Potential improvement alternatives, including the benefits and social, economic and environmental impacts of each, will be compared against a No Build (do-nothing) alternative. The study will refine the proposed alternatives
Examples of Underpasses and Overpasses
Map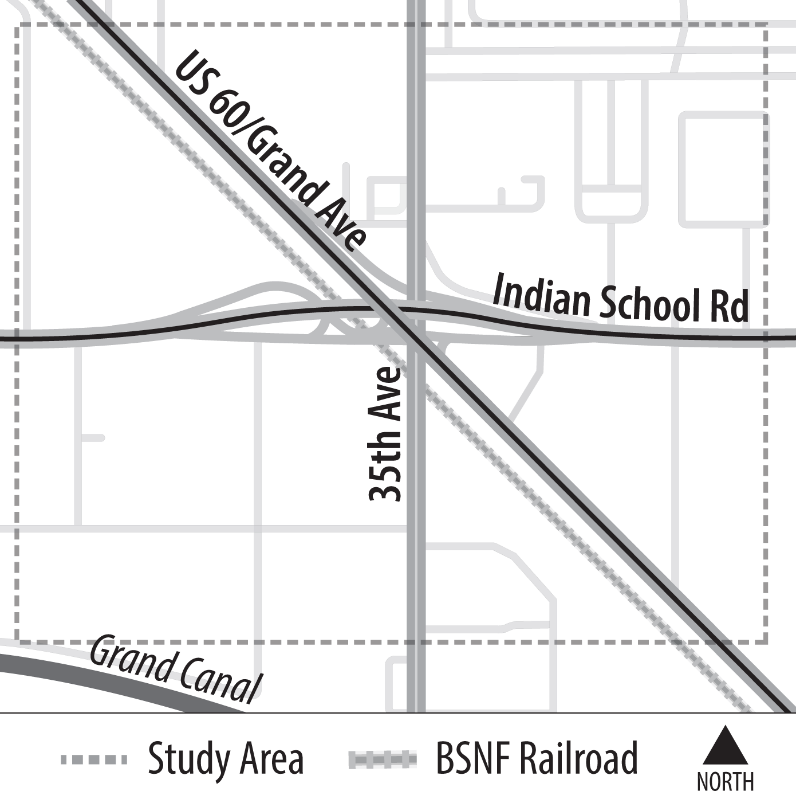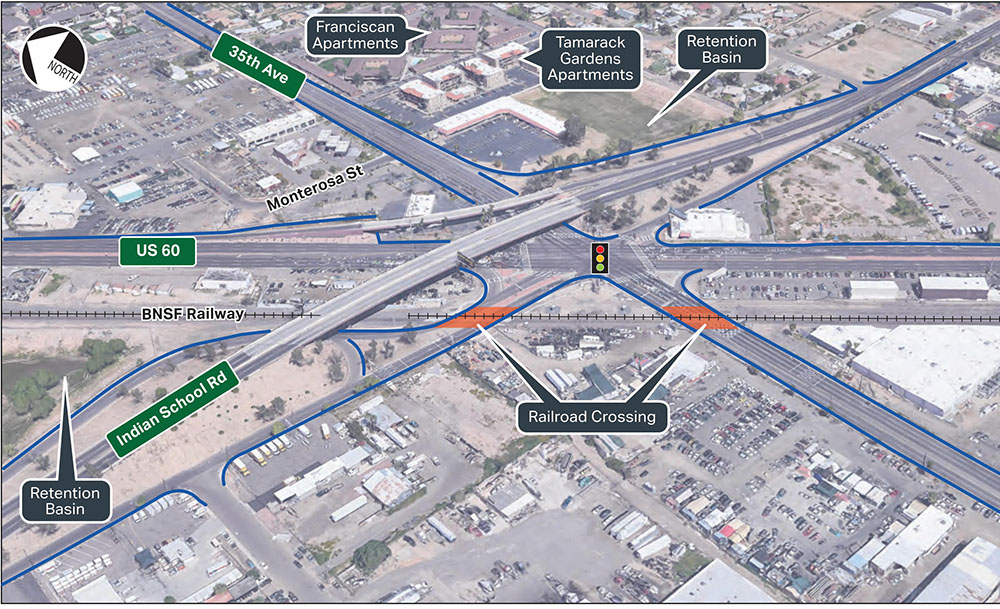 Study elements to be evaluated
Roadway improvements, including potential grade separation of one or more of the roadways.
Eliminating crossings with the BNSF Railway
Improving accommodations for pedestrian and bicycle facility users
Accommodating transit routes and users
Safety for roadway users
Future travel demand and anticipated traffic level of service
Potential environmental impacts and mitigation
Potential right of way acquisition and changes to property access
Minimizing impacts of project construction on traffic and adjacent properties
Conflicts with existing utilities
CONTACT US
By Phone: ADOT Project Information Line: 855.712.8530

Línea de Información del Proyecto ADOT: 855.712.8530

Online: Visit azdot.gov/contact and select Projects from the drop-down menu
By Mail: ADOT Communications, 1655 W. Jackson St., MD 126F, Phoenix, AZ 85007
Stay Informed
Please subscribe to receive study updates by email.