Don't burn bridges, unless they're rebuilt with innovative techniques
Don't burn bridges, unless they're rebuilt with innovative techniques
By Ryan Harding / ADOT Communications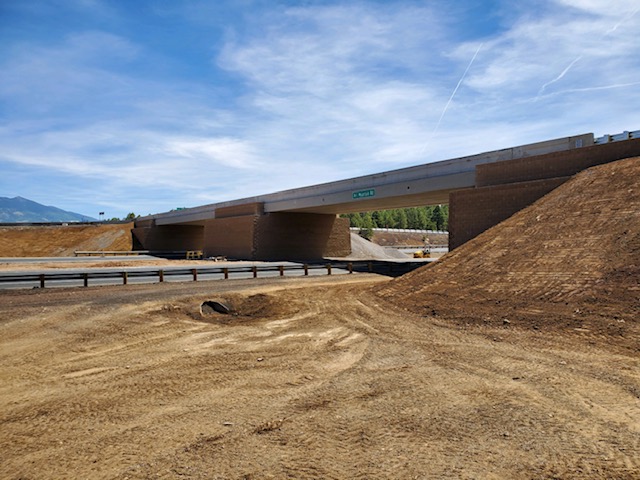 They say it's a good idea not to burn your bridges, and I'm inclined to agree. But if you're going to replace it with a brand-spanking new bridge, then why not?
Another new bridge replaced an older one in the A-1 Mountain Road overpass over I-40 in west Flagstaff. Using innovative construction methods, ADOT was able to demolish and replace the bridge in less than 40 days.
In fact, new bridges have been popping up all over northern Arizona. The A-1 Mountain Road Bridge joins these new bridges that were built in the last few years:
Rio de Flag Bridge in downtown Flagstaff
I-40 bridges over Business 40 in west Flagstaff
Fourth Street Bridge in east Flagstaff
Meteor City Road Bridges near Meteor Crater
I-40 Hughes Avenue Bridge to Bellemont
Many of these bridges were replaced using time-saving techniques that cut down on traffic impacts, like precasting bridge elements off-site, the bridge-slide method and geosynthetic reinforced soil-integrated bridge system. 
Have gone a bridge too far?
Just wait as ADOT continues to work on replacing the I-40 bridges at Pineveta Draw near Ash Fork, the I-15 Virgin River Bridge No. 1 in the northwest corner of Arizona and the Lukachukai and Agua Sal North bridges along US 191 in the Navajo community of Round Rock.
ADOT is also rehabilitating bridges along I-40 at Hermosa Drive in Holbrook, Seligman at Exit 123 and Anvil Rock Road 11 miles west of Seligman. 
Check out more bridge content on our website.