Make your voice heard as we study Interstate 11 between Nogales and Wickenburg
Make your voice heard as we study Interstate 11 between Nogales and Wickenburg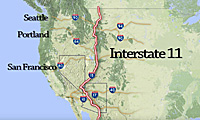 By Laura Douglas / ADOT Communications
Ever think about the future? Of course you do – and you probably made a resolution or two at the beginning of the year.
The Arizona Department of Transportation is constantly looking ahead and planning for the future through transportation studies. One of our major efforts is the Interstate 11 environmental study that focuses on the area from Nogales to Wickenburg. ADOT is now in its second year of that three-year study with lots of information coming your way, along with opportunities to get involved and provide your comments.
As we move through the study process, we created this video to underscore the importance of Interstate 11 and how it fits into our transportation and economic visions for the state of Arizona. Our global competitiveness, along with good jobs, our quality of life and our connections to major markets, depends directly on our ability to move people, products and services quickly and efficiently throughout our state and beyond.
Here's where you come in. As the Interstate 11 environmental study progresses and new proposed corridor alternatives have taken shape, ADOT needs the public and agencies to comment on the work that's been done. The public comment period began on April 28 and runs through June 2.
The latest study and meeting materials are posted to the Interstate 11 website at i11study.com and an online mapping and comment tool is available. Below is the schedule for the six public meetings. All meetings, which will have an open house format, run from 5 to 7 p.m.
Tuesday, May 2
Arizona Riverpark Inn
777 W. Cushing St.
Tucson 
Wednesday, May 3
Marana Middle School – cafeteria
11285 W. Grier Road
Marana
Thursday, May 4
Nogales High School – cafeteria
1905 N. Apache Blvd.
Nogales
Wednesday, May 10
Dorothy Powell Senior Adult Center – dining room
405 E. Sixth St.
Casa Grande
Thursday, May 11
Wickenburg Community Center
160 N. Valentine St.
Wickenburg
Tuesday, May 16
Buckeye Community Center – multipurpose room
201 E. Centre Ave.
Buckeye