MVD Community Connections donates cozy supplies to City of Hope
MVD Community Connections donates cozy supplies to City of Hope
By Bill Lamoreaux / ADOT Communications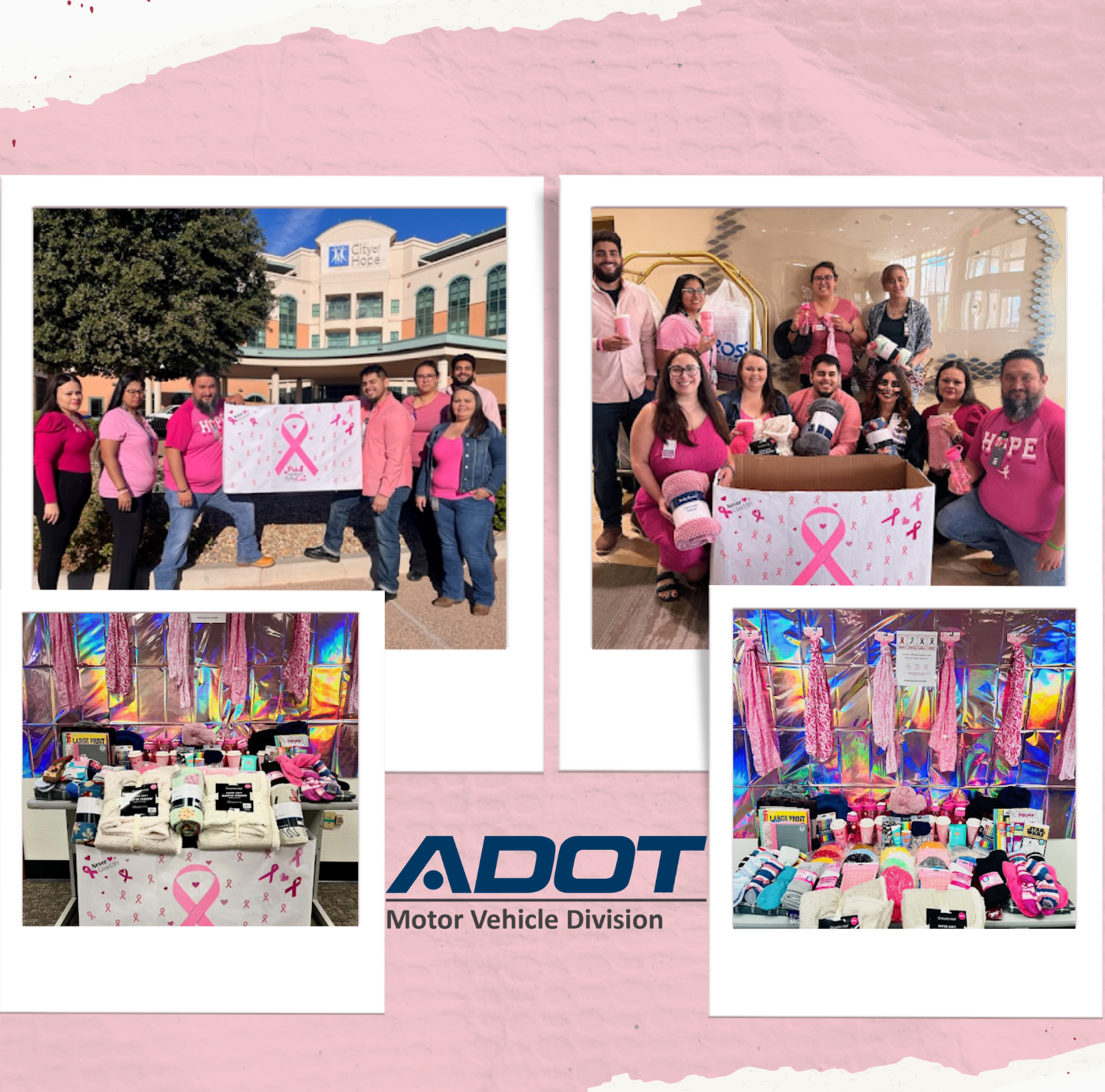 Employees from two Phoenix-area MVD locations worked together to help those battling cancer know they are not alone in their fight. 
The 'Detect it, Treat it, Defeat it!' project is part of MVD's community engagement program, "MVD Community Connections." The Avondale MVD office and Phoenix Call Center employees collected blankets, slippers, sweaters, beanies, pillows and other comforting items and brought them to the City of Hope cancer center in Goodyear.
Those fighting the very personal battle against cancer need to know there is always hope. The supplies donated hopefully bring a warm feeling of support and distraction so the treatment can do the work needed to beat the disease.
"The reason I chose this event is because I lost my nana, Shirley Ann, to breast cancer when I was 15 years old," said Sammi Perkins, Avondale MVD Office Manager. "It was heartbreaking to see all the pain she went through during her treatments. I teamed up with the manager of the Phoenix Call Center, Mayra Kokumo, who was impacted by the loss of her mother in 2012 to cancer, to collaborate within MVD because it means so much to both of us."  
Everyone in the community is impacted by this insidious disease, but thanks to organizations such as City of Hope, prevention and treatment plans are improving results in the battle against cancer.
"I know first hand our donation will help other patients and families going through this difficult time in their lives as I know it was a blessing for my family," said Mayra Kokumo. "Everytime there is an opportunity for me to help or donate to this organization I think about my mother." 
MVD Community Connections is an effort to provide MVD employees an outlet to positively impact our communities that we all live and work in. Some of the other projects include back to school supply drives, food and water drives, holiday toy and clothing drives and even the collection of aluminum soda tabs to help the Ronald McDonald Houses. Collected items go directly to organizations within the community of each MVD location that participates